Equatorial Congo Airlines - ECAir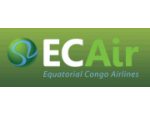 Organisation Type:

Full Service / Network

Country:

Congo
Status update: "is attending Routes Africa 2012"
Facts (Overview)
ECAir commercial code company Equatorial Congo Airlines, is the new national airline of the Republic of Congo, Brazzaville. ECAir was created by the Congolese state, to improve the aviation sector by acquiring modern, efficient infrastructure and an airline safe, viable and competitive.
To achieve this, ECAir has developed partnership with:
Lufthansa Consulting to support its organizational development and
PrivatAir to ensure the operation of its fleet in cooperation with Lufthansa Technik.

ECAir launched its first commercial flight on Sept. 23rd, 2011, and currently transports passengers on the domestic route Brazzaville / Pointe-Noire three times a day with two B737.

In August, the international service to CDG will be set up - latest in September, regional services to Benin and Cameroon will be added. Wthin the next couple of months, further domestic as well as regional markets will further be developed.

ECAir's vision is to "serve as a locomotive modernization of the aviation sector in the region."
Figures
There are currently no figures available
Last updated: Dec 06, 2012
Last updated: Jun 26, 2012
Back to Top