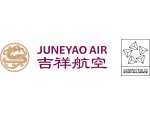 Organisation Type:

Full Service / Network

ICAO:

DKH

IATA:

HO

Website:

Telephone:

+86-21-22388711

Country:

China
Status update: "has updated their profile"
Facts (Overview)
Juneyao Airlines, registered in the P.R of China, is an IATA member. Based at Hongqiao Airport and Pudong Airport, Shanghai, it operates scheduled/non-scheduled domestic/international passenger services. As one of the four major carriers which have its main base in Shanghai, Juneyao Airlines operate 41 air routes now. The weekly flight volume is around 840. Juneyao Airlines has the youngest fleet in China. It has a main fleet of2 A319-100 and 24 320-200 which operate to the following destinations:
Baotou, Beijing, Beihai, Changchun, Changsha, Changzhi, Chongqing, Dalian, Dongying, Fuzhou, Guangzhou, Guilin, Guiyang, Haikou, Harbin, Hohhot, Hong Kong (S.A.R), Kunming, Longyan, Macau (S.A.R), Nanchang, Nanning, Qingdao, Shanghai, Shenyang, Shenzhen, Shijiazhuang, Sanya, Tianjin, Taiyuan, Tongliao, Urumqi, Wenzhou, Wuhan, Xiamen, Xi'an, Yichang, Zhuhai.
Juneyao Airlines is seeking interline partners across the globe and welcome cooperation of any kind with international carriers.
Figures
There are currently no figures available
Last updated: Dec 06, 2012
Back to Top