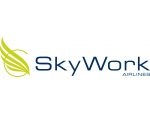 Organisation Type:

Full Service / Network

ICAO:

SRK

IATA:

SX

Website:

Country:

Switzerland
Status update: "has created a campaign powered by Campaign Manager"
Facts (Overview)
The Start of SkyWork
1983 The SkyWork flight training school is founded in Berne.
1989 Focus changes to the transport of private persons and business people.
2003 The first 31-seat Dornier 328 is added to the fleet. SkyWork conducts charter flights to popular holiday destinations in cooperation with tour operators.
2009 The first scheduled flight to Rotterdam takes place.
The New SkyWork
2010 Barcelona, Berlin and Hamburg follow. Daniel Borer arrives as a new investor in SkyWork and ultimately takes over the company. This makes it possible for SkyWork to constantly expand its route network from Berne. The focus is now on the development of scheduled flights, where SkyWork is positioning itself as a high-quality carrier in the low price segment. A new corporate identity is created and th
Figures
There are currently no figures available
Last updated: Dec 06, 2012
Last updated: May 16, 2013
Last updated: Aug 30, 2011
Last updated: Apr 2, 2012
Back to Top