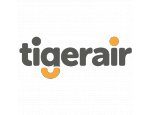 Organisation Type:

Low Cost

ICAO:

TGW

IATA:

TR

Website:

Telephone:

+65 6822 2300

Country:

Singapore
Status update: "is attending World Routes 2013"
Facts (Overview)
Tiger Airways Singapore is a fully owned subsiduary of Tiger Airways Holdings Limited, which is listed on the Singapore Exchange.
Established in September 2004 it is now Singapore's largest low-cost airline serving 21 destinations across 9 countries from its base at Singapore's Changi Airport.
Tiger Airways Singapore is a true low cost/low fare airline - offering the lowest possible fares by removing non-essential costs and focussing on route profitability.
Since inception it has seen consistant growth in both passenger volumes and load factors.
> For year ending 31st March 2010 passenger volume was up 54% VLY to 4.9million
> Average load factor increased by 6 percentage points VLY to 85%
Tiger Airways Singapore currently has a fleet of 10 A320 aircraft.
Tiger Airways Holdings has comitted to expanding it's fleet to 68 aircraft by December 2015.
Figures
There are currently no figures available
Last updated: Dec 06, 2012
Last updated: Nov 21, 2011
Last updated: Feb 28, 2012
Back to Top