Vagar Airport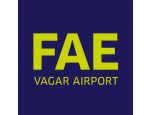 Organisation Type:

Under 1 Million

ICAO:

EKVG

IATA:

FAE

Website:

Telephone:

+298 354400

Country:

Faroe Islands
Status update: "has updated their profile"
Facts (Overview)
With the runway significantly extended in december 2011, Vagar Airport enters within direct reach of more foreign airports than ever. The runways extension and other investments are a likely game changer that could usher in a new level of connectivity between the Faroe Islands and the rest of the world.
Vagar Airport works together will all airlines and other parties interested in promoting traffic to and from the Faroe Islands. Vagar Airport has a good network and close relations to the Faroese incoming and outgoing leisure and business interests' and is happy to facilitate and share contacts to all between all interested parties. Furthermore Vagar Airport works closely together with Visit Faroe Islands in order to promote the Faroe Islands and the West Nordic region as a tourist destination.
From 2011 till 2012, Vagar Airport experienced a 10.9% growth in passenger-figures. The figures increased from 203.499 pax to a record-breaking 225.532 pax.
Figures
Number of Terminals:

1

Urban population:

20,000

Total Catchment Population:

50,000

Number of Runways:

2 (12 &30)

Length of main runway (m):

1799

Operational Opening Hours:

07:00-19:45 UTC

Ownership:

Government owned Public Limited company

Number of Direct Destinations:

Summer -7 Winter- 3

List of Top 5 airlines:

Atlantic Airways

Passenger Numbers (mppa):

2012: 0.225

Cargo Tonnes (p.a.):

2012: 610.1 (cargo and mail)

Number of Serving Airlines:

1

Aircraft Parking Stands:

4 (no. 5 under construction)
Contacts

Events
Upcoming Key Routes

1

Underserved Key Routes

5

Unserved Key Routes

11
Last updated: Jan 29, 2013
Last updated: Feb 29, 2012
Last updated: Feb 29, 2012
Last updated: Feb 29, 2012
Last updated: Jun 7, 2012
Last updated: Jun 29, 2012
Last updated: Jan 29, 2013
Back to Top