Novosibirsk International Airport (Tolmachevo)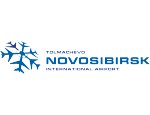 Organisation Type:

1-4 Million

ICAO:

UNNT

IATA:

OVB

Website:

Telephone:

+7 383 216-92-17

Country:

Russian Federation
Facts (Overview)
Novosibirsk International Airport (Tolmachevo, code IATA – OVB) is the largest air junction point in the Asian part of Russia. The airport is conveniently located for transit stops for the flights from China and Asia to Europe.
The airport holds the 6-th place in the rating of the leading Russian airports in terms of annual passenger and cargo traffic. For the first time in history in 2012 the annual passenger traffic at Novosibirsk airport rose above 3 million and amounted 3,266 million passengers (more than 18 % growth of total passenger traffic is attributed to 26 % growth on international routes).
In 2013 the airport expects to handle more than 3,7 million passengers.
Currently about 50 Russian and foreign passenger and cargo airlines operate via the airport on scheduled and charter basis connecting Novosibirsk with more than 90 destinations both in Russia and abroad.
Figures
Upcoming Key Routes

4

Underserved Key Routes

5

Unserved Key Routes

10
Back to Top