AIG - Queen Alia International Airport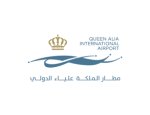 Organisation Type:

4 Million +

ICAO:

OJAI

IATA:

AMM

Website:

Telephone:

0096264453000

Country:

Jordan
Status update: "has updated their Terminals page within their profile"
Facts (Overview)
Who is Airport International Group?
AIG is a Jordanian consortium of companies which has gathered regional investors and international experts in construction and airport operations to fulfill its mandate as granted by the Hashemite Kingdom of Jordan: to manage and redevelop Jordan's premier gateway under a 25-year Build-Operate-Transfer (BOT) concession.
The New State of The Art Terminal was inaugurated in March 2013.
QAIA/AMM in Numbers (Nov.2007-Dec.2012)
Market share of Transit PAX: 18.4%
Market share of O&D PAX: 81.6%
Growth in Destinations: 14.3%
Tons of Cargo handled since AIG took Over: 453,180 Tons
PAX in 2007: 3.9m
ACM in 2007: 44.7k
Growth in PAX: 62%
Growth in ACM: 50%
PAX in 2012: 6.25m
ACM in 2012: 67.2k
Non-stop/Direct destinations, peak S12: 64
Figures
Number of Terminals:

1 Terminal

Urban population:

Total Catchment Population:

Number of Runways:

2

Length of main runway (m):

3,660 M

Operational Opening Hours:

24 hours

Ownership:

Government of Jordan – BOT agreement with AIG for 25 Years

Number of Direct Destinations:

03Q13: 67 non-stop & direct destinations

List of Top 5 airlines:

Royal Jordanian, Egypt Air, Middle East Airlines, Turkish Airlines and Etihad Airways

Passenger Numbers (mppa):

2012= 6,250,048 PAX and 03Q13=4,969,779 PAX

Cargo Tonnes (p.a.):

~453,180 duration of 15.Nov.07 until 2012

Number of Serving Airlines:

03Q13: 38

Aircraft Parking Stands:

7 FLB and 33 remote stands
Contacts

Nour Nahleh

Corporate Marketing Section Head

Mazen Sabri

Section Head, Corporate Communications

Lana Hazou

Manager, Route Development

Events
Last updated: Oct 24, 2013
Last updated: Oct 28, 2013
Last updated: Oct 28, 2013
Last updated: Oct 28, 2013
Last updated: Oct 28, 2013
Last updated: Oct 28, 2013
Last updated: Oct 24, 2013
Back to Top