Bratislava International Airport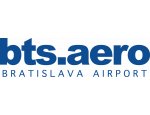 Organisation Type:

1-4 Million

ICAO:

LZIB

IATA:

BTS

Website:

Telephone:

+421 903 961 872

Country:

Slovakia
Status update: "has updated their profile"
Facts (Overview)
Airport Bratislava is the main international airport in the Slovak Republic
Ideal Location on the border with Austria, Hungary and Czech Republic
Catchment area 4 million within 60 minutes drive
Modern passenger terminal
Annual Capacity: 5 mil pax
Currently operating 23 scheduled destinations
Bratislava Airport supports new airlines with an attractive incentive programme including discounts for new destinations, discounts for preferred destinations, cargo incentives, marketing support and more.
Figures
Number of Terminals:

1

Urban population:

460 thousand (546 thousand within the whole aglomeration)

Total Catchment Population:

4 million (1-hour drive)

Number of Runways:

2

Length of main runway (m):

3,190m (CAT IIIA)

Operational Opening Hours:

24 hours

Ownership:

State owned

Number of Direct Destinations:

23 scheduled, 46 non-scheduled (as of S12)

List of Top 5 airlines:

Ryanair, Norwegian Air Shuttle, UTair Aviation, Travel Service

Passenger Numbers (mppa):

1,416 (2012)

Cargo Tonnes (p.a.):

22 577t (2012)

Number of Serving Airlines:

5 scheduled, 11 non-scheduled

Aircraft Parking Stands:

33
Contacts

New Arrivals in operation since June 2012

Lifesize Caproni Aircraft Model in the departures hall

Events
Fresh news in summer schedule
Fly this summer from Bratislava to 24 destinations on 86 flights weekly.
Sardinia, Spain, Croatia, Italy or Scandinavia. This summer season you can reach from Bratislava Airport directly 24 destinations in 12 countries thanks to the offer of 86 flights a week. There are new attractive destinations for the upcoming months - Venice, Bristol, Oslo and Copenhagen, compared to the last year. Existing summer destinations as Alghero, Malaga or Palma de Mallorca are still in offer!
Six airline carriers, including the new Scandinavian one – Norwegian Air Shuttle, will offer passengers flights to 24 attractive destinations this summer, among which are favourite connections to Great Britain and Ireland, as well as to Spain, Italy, Croatia, Belgium, Denmark, France, Israel, Norway, Russia or Slovakia. Considering Ryanair expansion within Mid Europe and its low cost carrier flexibility, it is still possible that other new destinations will be added later this summer.
During the summer schedule the direct and scheduled flights from Bratislava will be operated by Danube Wings, El Al, Norwegian Air Shuttle, Ryanair, Travel Service and UTair Aviation.
Two digit number charter destinations will make the offer from Bratislava even more interesting, Dubai is the new hot destination. More information about holiday packages can be found in Slovak travel agencies.
Complete list of scheduled destinations in summer flight timetable (25. 03. – 27. 10. 2012):
Belgium
Brussels-Charleroi (Ryanair), 4 frequencies per week
Croatia
Split (Danube Wings), 1 frequency per week (in august 2x)
Zadar (Danube Wings), 1 frequency per week
Denmark
Copenhagen (Norwegian Air Shuttle), 2 frequencies per week
France
Paris-Beauvais (Ryanair), 4 frequencies per week
Great Britain
Birmingham (Ryanair), 3 frequencies per week
Bristol (Ryaniar), 2 frequencies per week
Edinburgh (Ryanair), 2 frequencies per week
Liverpool (Ryanair), 3 frequencies per week
London-Luton (Ryanair), 5 frequencies per week
London-Stansted (Ryanair), 11 frequencies per week
Ireland
Dublin (Ryanair), 6 frequencies per week
Italy
Alghero (Ryanair), 2 frequencies per week
Venice (Danube Wings), 3 frequencies per week
Milan-Bergamo (Ryanair), 4 frequencies per week
Rome-Ciampino (Ryanair), 3 frequencies per week
Israel
Tel Aviv (El Al, Travel Service), 2 frequencies per week
Norway
Oslo (Norwegian Air Shuttle), 2 frequencies per week
Russia
Moscow-Vnukovo (UTair Aviation), 7 frequencies per week
Slovakia
Košice (Danube Wings), 10 frequencies per week
Spain
Barcelona-Gerona (Ryanair), 2 frequencies per week
Gran Canaria (Ryanair), 2 frequencies per week up to May 2012
Malaga (Ryanair), 3 frequencies per week
Palma de Mallorca (Ryanair), 2 frequencies per week
Last updated: May 9, 2012
Last updated: Apr 29, 2013
Last updated: Mar 21, 2013
Back to Top