Ghana Airports Company Limited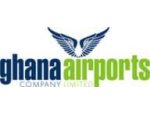 Organisation Type:

1-4 Million

ICAO:

CAT

IATA:

ACC

Website:

Telephone:

+ 233 302 776 171

Country:

Ghana
Facts (Overview)
The Kotoka International Airport (KIA) occupies 1610 acres (651 hectares) within the city of Accra and is about 10 kilometers from the City Center. KIA is centrally located in the world, (on the Greenwich Meridian and close to the Equator).
The Kotoka International Airport (KIA) is managed by the Ghana Airports Company Limited (GACL) which commenced operations in January 2007. In addition to KIA, GACL is entrusted with the management of three domestic Airports namely Kumasi, Tamale, Sunyani as well as various Airstrips in Ghana. GACL emerged from the Ghana Civil Aviation Authority (GCAA) in January 2006 in line with modern trends in the aviation industry.
GACL as part of its functions, facilitates aircraft, passenger, cargo and mail movements, coordinate the operations of agencies that provide support services at the airport, provide rescue and fire fighting services to enhance safety and security for aircraft in accordance with best international practices.
Figures
Back to Top