New Year A380 Expansion for Emirates
Posted 02 January 2013 09:45
United Arab Emirates (UAE) carrier Emirates Airline has doubled its Airbus A380 capacity to New York's John F Kennedy International and Paris' Charles De Gaulle airports with twice daily Super Jumbo rotations now operating into both cities from its Dubai International hub. From January 1, 2013 the carrier has introduced a 487-seat version on its EK203 / EK204 New York rotation while a 517-seat variant was introduced to Paris - a route served 19 times weekly, twice daily with A380s and five times weekly with a 777-300ER.
"The decision to commit a second A380 to both New York and Paris is a clear indication of customer demand, for the state-of-the-art aircraft and these two popular destinations," said Thierry Antinori, Executive Vice President, Passenger Sales Worldwide, Emirates Airline. "New York and Paris are both important routes for Emirates and its customers. Adding larger capacity aircraft is central to helping us meet growing passenger demand and will also boost economic support for American and French international commerce."
The capacity growth on the Dubai – New York service will introduce an additional 1,848 seats per week into the market, including an enhanced premium offering. On the Dubai – Paris CDG link Emirates will boost its own capacity by 46.0 per cent versus last year as it further boosts its dominance on the route which is also served by Air France on a daily basis.
With the world's largest fleet of A380 aircraft at 31 and another 59 on order, Emirates continues to set the pace for A380 deployment. In the four years since the Emirates A380 has been in operation over 11.5 million passengers have flown on the aircraft, covering 169 million kilometres. In 2012 alone, Emirates added 11 A380s to its fleet.
The Emirates A380 fleet currently serves 21 destinations with new cities set to be announced in the coming months. On February 24, 2013 and March 1, 2013 the carrier will also operate the A380 on one-off scheduled flights on the Dubai – Barcelona route. It has also opened the world's first purpose-built A380 facility at Dubai International Airport, allowing faster boarding and smoother connections. The first departure took place on January 2, 2013.
In the table below we highlight Emirates' A380 deployment from Dubai International Airport, ranked by the number of flight departures since the type made its scheduled debut with the carrier in August 2008 up until December 2012. The airline has used the type on schedule flights to 30 destinations (including Auckland which is served via Melbourne and Sydney and thus does not appear in our analysis). In 2008 Emirates operated 130 A380 departures from Dubai International Airport, growing to 1,137 in 2009 (up 774.6 per cent year-on-year), 2,760 in 2010 (up 142.7 per cent year-on-year), 4,495 in 2011 (up 62.9 per cent year-on-year) and 6,316 in 2012 (up 40.5 per cent year-on-year).
EMIRATES AIRLINE SCHEDULED A380 DEPARTURES FROM DUBAI INTERNATIONAL (non-stop departures up to and including December 2012)

Rank

Destination

Flight Departures

Flight Operation Period

1

London Heathrow (LHR)

2,840

Dec 2008 -

2

Jeddah King Abdulaziz International (JED)

1,499

Feb 2010 -

3

Sydney Kingsford Smith (SYD)

1,379

Feb 2009 -

4

Bangkok Suvarnabhumi International (BKK)

1,307

Jun 2009 -

5

Paris Charles De Gaulle (CDG)

1,083

Dec 2009 -

6

New York John F Kennedy International (JFK)

1,034

Aug 2008 – May 2009; Nov 2010 -

7

Seoul Incheon (ICN)

993

Dec 2009 – Feb 2012; Jun 2012 -

8

Beijing Capital International (PEK)

872

Aug 2010 -

9

Manchester (MAN)

853

Sep 2010 -

10

Toronto Lester B Pearson International (YYZ)

562

Jun 2009 -

11

Hong Kong International (HKG)

449

Jan 2011 -

12

Munich Franz Josef Strauss (MUC)

390

Nov 2011 -

13

Rome Leonardo da Vinci International Fiumicino (FCO)

331

Jun 2011; Dec 2011 -

14

Kuala Lumpur International (KUL)

307

Jan 2012 -

15

Shanghai Pu Dong (PVG)

264

Apr 2011 -

16

Tokyo Narita (NRT)

184

Jul 2012 -

17

Johannesburg OR Tambo International (JNB)

160

Oct 2011 – Feb 2012; Jun 2012

18

Amsterdam Schiphol (AMS)

153

Aug 2012 -

19

Melbourne Tullamarine (MEL)

92

Oct 2012 -

20

Singapore Changi International (SIN)

45

Sep 2012; Dec 2012 -

21

Moscow Domodedovo (DME)

31

Dec 2012 -

22

Milan Malpensa (MXP)

3

Jul 2010; Dec 2011 – Jan 2012

23

Hamburg (HAM)

1

Sep 2011

24

Athens Eleftherios Venizelos (ATH)

1

Oct 2012

25

Delhi Indira Gandhi International (DEL)

1

Jul 2010

26

Birmingham (BHX)

1

Sep 2009

27

London Gatwick (LGW)

1

Dec 2011

28

Kuwait International (KWI)

1

Jul 2012

29

Riyadh King Khaled International (RUH)

1

Sep 2011

TOTAL

14,838

Aug 2008 -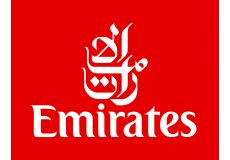 Emirates
Dubai-based Emirates Airline ( www.emirates.com ) is one of the fastest growing airlines in the world, and has received more than 400 international awards for excellence. Emirates is wholly-owned by the Government of Dubai, but is recognised as an international airline of the UAE. The airline is...
---
---
All the news direct to your inbox!

Register with Routesonline and get all the latest air service development news in our weekly newsletter The Hub.
---
© 2013 UBM Aviation Routes, please click here to read our editorial guidelines.
Comments
Top Stories
Posted 15 May 2013 11:23

Posted 13 May 2013 22:53

Posted 13 May 2013 15:05

Posted 13 May 2013 19:35

Posted 12 May 2013 21:34
All Top Stories