Queen Alia International Airport Enters Landmark Year
Posted 12 February 2013 21:29
A record-breaking 2012 is to be followed by a milestone 2013 at Amman's Queen Alia International Airport (QAIA), the main international gateway into the Kingdom of Jordan. After recording a growth of 14.3 per cent in passengers during 2012, the facility will this year celebrate the 30th anniversary of its construction with the opening of a brand new, state-of-the-art passenger terminal next month that will almost treble passenger capacity.
Located in the Zizya district, approximately 20 miles (32 km) south of Amman, the airport already houses two passenger terminals and a single cargo terminal, but capacity is constrained. The facility, which takes its name from Queen Alia, the third wife of the late King Hussein of Jordan, has expanded beyond its means over the past ten years. In 2006 it exceeded its announced capacity of 3.5 million passengers for the first time and despite the global economic crisis and regional tensions it has witnessed passenger growth for each of the subsequent six years, surpassing the six million passenger milestone for the first time in 2012 (the airport handled 6,250,048 passengers in the full year, up 14.3 per cent on 2011).
This record-breaking performance in 2012 further highlights the crucial significance of the new terminal for the future development of QAIA for its operator Airport International Group (AIG), which was awarded a 25-year Build-Operate-Transfer (BOT) concession by the Jordanian Government to manage and redevelop Jordan's premier gateway in 2007.
"Reaching these new traffic milestones at QAIA is a great achievement in itself, made even more noteworthy by the fact that they have been reached just ahead of the biggest and most important milestone in the development of QAIA: the upcoming launch of the new terminal," said Kjeld Binger, Chief Executive Officer, AIG. "This new national landmark represents the realization of His Majesty's vision for the airport, and the promising figures recorded in 2012 provide further optimism over the future of QAIA, as well as that of the entire Kingdom."
The state-of-the-art new terminal, planned to officially begin operating on March 21, 2013, boasts vastly improved infrastructure, with a larger check-in area, clearly marked signage and flight information monitors, comfortable seating, a larger duty-free area, and a wider variety of food and beverage outlets, among many other greatly enhanced features. Its opening will take place following a one-time, overnight operational transfer from the old facilities.
Estimated at an investment value of $750 million, the new terminal is currently nearing completion and will serve as a source of pride and prosperity for all Jordanians. The new building will significantly increase the airport capacity to nine million passengers annually, nearly three times the current airport capacity of 3.5 million annual passengers. Future expansion options will further increase the airport capacity to 12 million passengers a year, while AIG has also spent an additional $100 million on rehabilitating and improving the existing terminals to enable the airport to handle the continuous growth in passenger traffic.
Despite this significant investment, there have been suggestions over recent months that AIG is looking to dispose of its interest in QAIA, a suggestion quickly dismissed by Binger who stressed that such allegations are unfounded, and emphasized that AIG has no plans of disposing of any part of its investment in QAIA, which is considered the most important Public Private Partnership (PPP) in the history of Jordan.
The airport development plan is part of a drive to position Jordan as a niche hub. "With the economic growth that Jordan is witnessing, a profound vision and careful planning are essential to fulfill the rapidly evolving demands of a vibrant and dynamic nation," said Binger. "The Jordanian Government has taken significant steps to restructure the transportation sector in the Kingdom, particularly its civil aviation industry in order to meet the rapid increase in travelers as Jordan is rapidly emerging as a regional hub for passengers and airlines from around the world."
QAIA is the main base for the country's national carrier, Royal Jordanian, a full member of the oneworld global airline alliance. According to capacity data for 2012, the airline had a 56.8 per cent share of available seats at QAIA, which is considerably more than the shares allocated to its international rivals, the largest being Emirates Airline with a 4.6 per cent capacity share, EgyptAir with 3.5 per cent and Turkish Airlines with 2.9 per cent. Notable new arrivals at QAIA in recent years have been foreign low-cost operators including Air Arabia and easyJet, diversifying the product offering to potential travelers.
In the table below, using MIDT data, we highlight the top 20 O&D markets from QAIA by bi-directional passenger demand during the year ending November 2012, and the airlines that currently serve these routes. This data reveals the United Arab Emirates (UAE) as the main O&D market (13.3 per cent), followed by Saudi Arabia (12.5 per cent), Egypt (7.4 per cent), Lebanon (7.2 per cent) and, in fifth position, the United States (5.1 per cent).
LARGEST MARKETS FROM AMMAN QUEEN ALIA INTERNATIONAL AIRPORT (bi-directional O&D passengers; 12 months to November 2012)

Rank

Destination

Estimated O&D Passengers

Airline Operators

1

Dubai International (DXB)

463,490

Emirates Airline, flydubai, Royal Jordanian

2

Beirut Rafic Hariri (BEY)

369,286

Middle East Airlines, Royal Jordanian

3

Cairo International (CAI)

286,424

EgyptAir, Royal Falcon, Royal Jordanian

4

Jeddah King Abdulaziz International (JED)

274,449

NasAir, Royal Flacon, Royal Jordanian, Saudia

5

Kuwait City (KWI)

218,416

Jazeera Airways, Kuwait Airways, Royal Jordanian

6

Riyadh King Khaled International (RUH)

212,223

NasAir, Royal Jordanian, Saudia

7

Abu Dhabi International (AUH)

165,683

Etihad Airways, Royal Falcon, Royal Jordanian

8

Tripoli International (TIP)

128,202

Afriqiyah Airways, Ghadames Air Transport, Libyan Airlines, Royal Jordanian

9

London Heathrow (LHR)

120,530

British Airways, Royal Jordanian

10

Istanbul Ataturk (IST)

119,985

Royal Jordanian, Turkish Airlines

11

Bahrain International (BAH)

89,426

Bahrain Air, Gulf Air

12

Doha International (DOH)

81,497

Qatar Airways, Royal Jordanian

13

Paris Charles de Gaulle (CDG)

76,006

Air France, Royal Jordanian

14

Sana'a El Rahaba (SAH)

73,322

Royal Jordanian, Yemenia

15

Dammam King Fahd International (DMM)

70,900

Royal Jordanian, Saudia

16

Madinah Mohammad Bin Abdulaziz (MED)

69,178

NasAir, Royal Jordanian, Saudia

17

Frankfurt Am Main International (FRA)

66,588

Lufthansa, Royal Jordanian

18

Khartoum Civil (KRT)

66,344

Royal Jordanian

19

Muscat International (MCT)

62,683

Oman Air

20

Baghdad International (BGW)

62,306

Royal Jordanian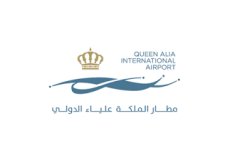 AIG - Queen Alia International Airport
Who is Airport International Group? AIG is a Jordanian consortium of companies which has gathered regional investors and international experts in construction and airport operations to fulfill its mandate as granted by the Hashemite Kingdom of Jordan: to manage and redevelop Jordan's...
---
---
All the news direct to your inbox!

Register with Routesonline and get all the latest air service development news in our weekly newsletter The HUB.
---
© 2013 UBM Aviation Routes, please click here to read our editorial guidelines.
Comments
Comments
Top Stories
Posted 04 December 2013 12:25

Posted 04 December 2013 18:20

Posted 04 December 2013 18:20

Posted 04 December 2013 11:10

Posted 05 December 2013 12:50
All Top Stories