Pegasus Airlines to Start Istanbul – Tirana Service from Sep 2013
Posted 18 July 2013 12:18
Update at 0640GMT 18JUL13

Pegasus Airlines from 02SEP13 begins service to Albania, with 5 weekly Istanbul Sabiha Gokcen – Tirana operation, on board Boeing 737-800 aircraft.
PC769 SAW1015 – 1100TIA 738 257
PC769 SAW1450 – 1535TIA 738 14
PC770 TIA1140 – 1425SAW 738 257
PC770 TIA1615 – 1900SAW 738 14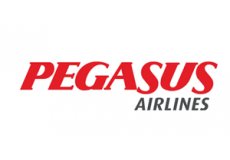 Pegasus Airlines
Pegasus Airlines is growing almost 40% each year since 2005 after the current owner Ali Sabanci / ESAS Holding bought the company. The transformation began after that time and the charter company transformed into a schedules Low Cost Airline. We currently fly to 23 countries and 55...
Istanbul Sabiha Gokcen International Airport
Istanbul Sabiha Gökçen International Airport is located on the Asian Side of Istanbul and serving for approximately 18 million people in a 2-hour catchment area. The full service airport embraces both low cost and flag carrier airlines and all passenger profiles. Having both...
---
---
All the news direct to your inbox!

Register with Routesonline and get all the latest air service development news in our weekly newsletter The HUB.
---
© 2013 UBM Aviation Routes, please click here to read our editorial guidelines.
Comments
Comments
Top Stories
Posted 10 December 2013 13:45

Posted 09 December 2013 13:40

Posted 01 August 2013 07:21

Posted 09 December 2013 12:20

Posted 01 August 2013 07:02
All Top Stories