Iraqi Airways, the national carrier of Iraq, grew total capacity at the fastest rate of all major airlines in August 2017 after adding more than 150,000 available seats.
According to figures from OAG, the airline's capacity grew at a rate of 58.6 percent to 411,859 seats, compared with 259,604 during the previous month. The increase came after the carrier upped the month-on-month frequency of its flights from 1,894 to 2,414. A total of 73 percent of Iraqi Airways' destinations in August were overseas.
Iraqi Airways international route network (August 2017):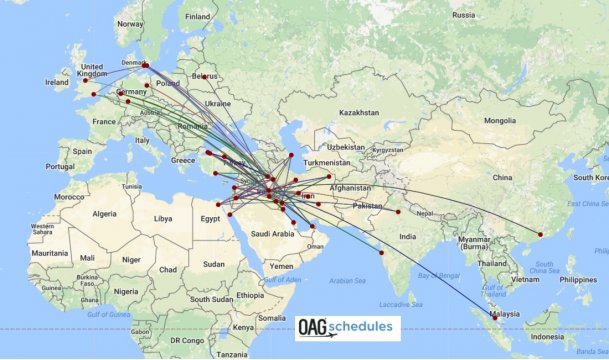 The growth of Iraqi Airways comes less than a year after Lufthansa Consulting signed an agreement with the Iraqi government to support the country's economic growth and develop a modern aviation industry. The project has focused on restructuring the national carrier and the civil aviation authority (ICAA) and on optimising Iraq's airports.
Singaporean low-cost long-haul airline Scoot ranked second in the list of fastest-growing carriers during August after increasing available seat capacity by 31.6 percent. Ata Airlines, the Iranian airline based in Tabriz International Airport, was third and Indian low-cost carrier (LCC) AirAsia India fourth. South Korean LCC Jin Air, which hopes to raise more than $250m through a stock market flotation later this year, completed the top five.
The list of fastest-growing airlines ranks the capacity percentage growth of carriers with more than 250,000 available seats during August.
In terms of overall capacity increase, SAS Scandinavian Airlines topped the table after adding 342,438 seats during August compared with July. The flag carrier of Sweden, Norway and Denmark upped its flight frequency from 22,603 to 24,809. Its Stockholm Arlanda-Copenhagen service was the route with most capacity at 120,772 available seats.
Completing the top five were Delta Air Lines (335,700 increase), All Nippon Airways (281,441), Scoot (220,372) and United Airlines (182,014).
---
The data
World's top ten fastest-growing major airlines ( % capacity rise from July-August 2017)
Jul-17 total capacity
Aug-17

total capacity

% growth
Iraqi Airways
259604
411859
58.6%
Scoot
696450
916822
31.6%
Ata Airlines
219679
280436
27.7%
AirAsia India
398880
490320
22.9%
Jin Air
741366
910284
22.8%
Red Wings Airlines
310320
359840
16.0%
Braathens Regional Aviation
223479
254783
14.0%
Blue Panorama Airlines
267811
299745
11.9%
SAS Scandinavian Airlines
3068206
3410644
11.2%
Urumqi Airlines
241653
267848
10.8%
World's top ten airlines by total capacity growth (increase of available seats from July-August 2017)
Airline
Jul-17

total capacity

Aug-17

total capacity

Capacity increase
SAS Scandinavian Airlines
3068206
3410644
342438
Delta Air Lines
20680995
21016695
335700
All Nippon Airways
6389877
6671318
281441
Scoot
696450
916822
220372
United Airlines
16898367
17080381
182014
Jin Air
741366
910284
168918
Saudi Arabian Airlines
3896775
4063519
166744
China Southern Airlines
10739694
10906349
166655
Norwegian Air Shuttle
1971714
2131680
159966
Iraqi Airways
259604
411859
152255
---
The 23rd World Route Development Forum
Barcelona, Catalonia • 23 - 26 September 2017
Confirmed speakers include: