Air Malta and Events by Martin organise 'Party in the Sky' Flight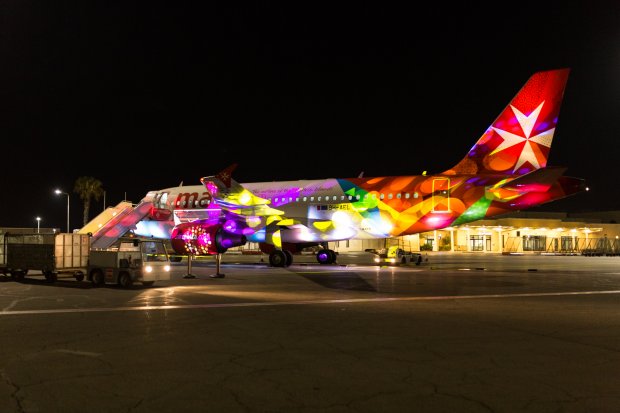 It was a night to remember on-board Air Malta's flight KM 7516 to the Balearic Island of Ibiza. 130 passengers, travelling on Air Malta's two-hour charter on Thursday 21st July, were treated to an exclusive experience of a "Party in the Sky".
The special flight, organised by Events by Martin, saw DJ Ruby, one of the island's foremost house DJs, and Swedish top DJ Daniel Pereaux spinning the decks on a night flight whilst overflying the Mediterranean Sea at 38,000 feet.
The exclusive VIP treatment started right from check-in. The unique experience continued at the departure gate where coloured lights and music animated the boarding process.
To add to the experience guests were treated to a special light projections show across the aircraft fuselage.
A custom made sound system was installed on-board the aircraft by Best Team Audio whilst Nexos provided special light visuals across the aircraft's aisles. Joseph Galea, Air Malta's Deputy Chief Commercial Officer said, "We were really excited to organise this unique flight and for the chance to offer our guests a safe but entertaining inflight experience like no other. The organisation of this flight, as requested by the organisers, presented an operational challenge to the airline."
"However Air Malta took the opportunity and together with its Engineering Department and Flight Operations conducted various tests to ensure that all equipment can safely be transported in the cabin and all international standards and regulations are followed." "At Air Malta safety is the number one priority. Safety and comfort of our customers, crew, and aircraft is paramount and we have ensured that all health and safety measures and international regulations are met," added Mr Galea. Various meetings were held with Malta International Airport, Malta Police and the Civil Aviation Directorate at Transport Malta to ensure adherence to all regulations and mitigate all risks. Various other Air Malta departments were involved including Flight Services, Passenger Handling, Cargo, Ground Handling, Security and Commercial divisions who worked closely together to organise the 'Party in the Sky' event.
Speaking about this flight Pierre Lindh, Managing Director of Ambassadör Events said, "The Party In The Sky started as an idea without much substance about one year ago. As we partnered with Air Malta we realised the huge task it would be to organise the event. We, as well as Air Malta take Health and Safety as our number one priority and we have always strived to be the leaders in the field in Malta. A huge effort was made to ensure the safety on board, and it was only by coming together across teams, suppliers and organisers in a professional way that we were able to overcome all challenges. The event attests to Ambassadör Events creative minds and ability to solve matters, something which has put us on the map in Europe as one of the most prestigious events organisers. Thank you Air Malta, and on a personal note I am also happy to have made a lot of new friends along the way!"
This events fits perfectly with Air Malta's aspiration to be a young and innovative travel operator. Air Malta has carved a name to organise unique events. From the Air Malta Love Plane on Valentine's Day to SkySpa, during which the airline is offering free massages onboard and SkyKids, where inflight entertainment for children is being offered. The airline has also successfully organised an event during which it flew in formation with the Red Arrows and raced one of its Airbus A320 aircraft with a Ferrari F12 Berlinetta. Such events show that despite it being a small airline Air Malta can organise prestigious events that grab international attention.
For more information visit: www.airmalta.com, www.ambassador-events.com .