The summer 2017 schedule starts for Air Malta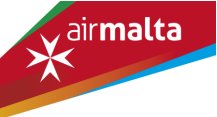 With a planned 150 weekly flights to 30 destinations, Air Malta will start its summer schedule next Sunday 26th March. The Maltese national airline will operate with a fleet of eight aircraft, similar to last year and is set to carry over 1.2 million passengers during the coming 7-months.
After a period of consolidation, Air Malta can announce one definite new destination, and is close to deciding a second new destination. After having operated in the past as charter destination, Air Malta will soon offer Tel Aviv as a scheduled service, making it possible to buy seats through its website www.airmalta.com and also travel agents.
And there is more good news. This summer Air Malta has increased frequencies on Munich, Brussels, Amsterdam, Vienna, Zurich, Rome, Catania, Lyon, Palermo, Prague and Moscow. The airline will operate with up to double daily flights in peak summer to Munich, Rome and Catania.
"Besides more flights to some of our best leisure and business destinations, we are also concentrating on the most convenient international airports that offer world-wide connections to and from Malta. Air Malta is determined to further grow in its key markets and work to open new traffic streams to new leisure markets in the medium term", said Paul Sies, Air Malta's Chief Officer Commercial.
"Besides Tel Aviv we are expecting to announce another new destination for this summer. Air Malta will offer increased value for money in its new business model and besides structural competitive fares please do watch out for our flash sales actions several times per year. We operate the most comfortable and conveniently timed flight schedule and route network to and from Malta. Through our codeshare partners we offer connections far and beyond Air Malta's network", added Mr Sies.
Apart from the scheduled services this summer Air Malta is operating an interesting series of charter operations to Tel-Aviv, Bucharest, Warsaw, Bratislava, Ljubljana, Zagreb, Dubrovnik, Corfu Chania and Lourdes.
The Maltese National airline will continue code-share agreements with Air France, Alitalia, Aeroflot, Austrian Airlines, Emirates, Etihad, KLM, Lufthansa, Brussels Airlines, Czech Airlines, Meridiana, Swiss Airlines and Turkish Airlines. These agreements expand Air Malta's network to other markets worldwide.