FLYBE'S WINTER SCHEDULE FROM LEEDS-BRADFORD TAKES OFF WITH DUSSELDORF INAUGURAL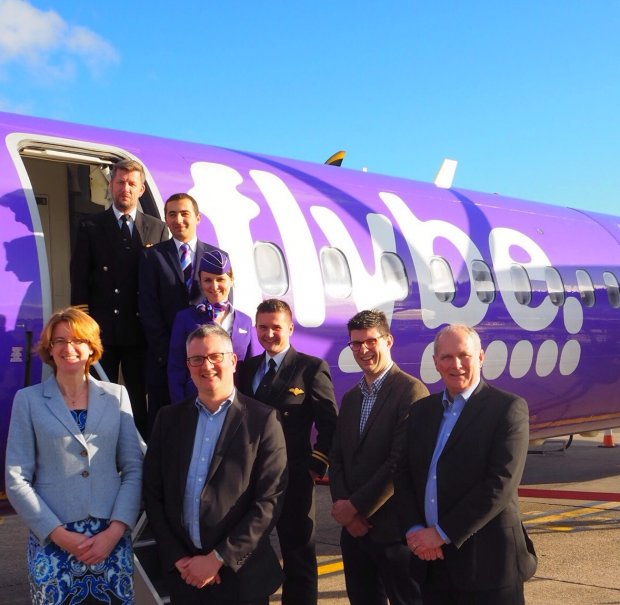 • Flybe offers a choice of up to 38 departures a week across 3 routes from Leeds Bradford • New route to Dusseldorf up to six times a week • Winter 2017/18 schedule also includes flights to Belfast and Newquay
Flybe, Europe's largest regional airline, is celebrating the inaugural flight of its Leeds Bradford to Dusseldorf flight which began on Sunday 29th October, marking the start of its winter schedule with up to 38 departures a week available to Belfast, Dusseldorf and Newquay. Seats are available for booking now at www.flybe.com.
Year round flights to Dusseldorf will depart up to six times a week, Dusseldorf is a convenient gateway to the Rhine-Ruhr economic region offering direct and convenient access to all the many attractions of the Rhine River, a particularly beautiful area of Germany and that has a wealth of things to offer leisure travellers and business travellers alike. The winter schedule also sees a refresh of Café Flybe, with brand new food and drink options available to passengers onboard.
Ronnie Matheson, Flybe's Interim Chief Commercial Officer says "We are delighted to be launching our first flights between Leeds Bradford and Dusseldorf, connecting two key European business hubs. Our 2017/18 winter schedule has been planned specifically to provide reliable and affordable business travel as well as for those looking to take advantage of convenient flights to take a winter break."
Chris Sanders, Aviation Development Director at Leeds Bradford Airport said: "This new Flybe service to Dusseldorf is a welcome addition to our schedule, providing customers with connectivity to one of Europe's key business destinations. Dusseldorf Airport's rail station provides ease of access to a variety of cities and destinations within Germany, with Frankfurt under two hours away and the beautiful cathedral city of Cologne less than 50 minutes from the airport.
"This latest service from Leeds Bradford Airport is an indication of the intention we have to strengthen our route offering and increase international connectivity for Yorkshire.
Full details of Flybe's 2017-18 winter schedule are available at www.flybe.com.