Ryanair announces winter 2021 schedule to/from Milan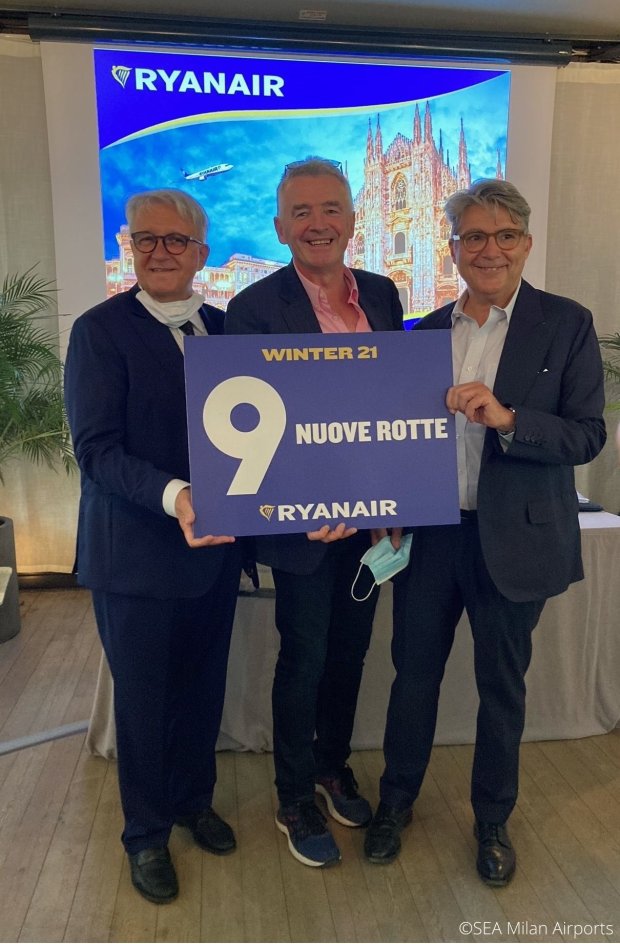 9 new routes from Milan & 800 new jobs in Italy
Ryanair, Italy's No.1 airline, today (8th Sept) announced its Winter 2021 schedule from its two Milan airports – Bergamo and Malpensa – opening 9 new routes (125 total routes) – connecting Milan to more exciting European destinations from October. As travel recovers to pre-Covid levels, Ryanair's growth continues to lead air traffic and tourism recovery in Milan. Ryanair will deliver over 800 new jobs for pilots, cabin crew and engineers in Italy this Winter as it gears up for post-Covid growth in S2022
Italian citizens / visitors can now book a well-deserved Autumn break to one of Ryanair's 9 new routes from Bergamo and Malpensa to exciting cities such as Helsinki, Malta, Naples and Stockholm. To celebrate, Ryanair has launched a €19.99 seat sale for travel until the end Nov 2021, which must be booked by midnight Friday, 10th September on www.Ryanair.com
MILAN – 9 NEW WINTER 2021 ROUTES

Bergamo to:

Malpensa to:

Birmingham

Aarhus

Helsinki

Malta

Liverpool

Naples

Stockholm

Sibiu (Rom)

Toulouse
Ryanair's Michael O'Leary, said:
"As Italy's largest airline, Ryanair is committed to recover Milan's tourism industry, jobs and connectivity as we grow across Europe and recover air travel to pre-Covid levels. As Ryanair takes delivery of 55 new B737-8200 'Gamechanger' aircraft this Winter, we are delighted to announce that a number of these new aircraft will be based at our 2 Milan airports, delivering 9 new routes from Bergamo and Malpensa and creating over 800 jobs in Italy this Winter.
Italian air traffic led by Ryanair, will recover strongly this Winter and we are pleased to announce our new Milan Winter schedule, which will operate flights to 125 destinations (including 9 new routes) to over 30 countries.
As consumer confidence returns, we call on the Italian Government to scrap the municipal tax for all Italian airports, which is damaging to the competitiveness of Italian airports versus their European counterparts. The axing of this tax would facilitate to a rapid recovery in Italian air traffic, tourism and jobs thanks to Ryanair's low fares and long-term growth plan."