Ryanair celebrates milestone of 4 million passengers on flights to/from Ireland West Airport Knock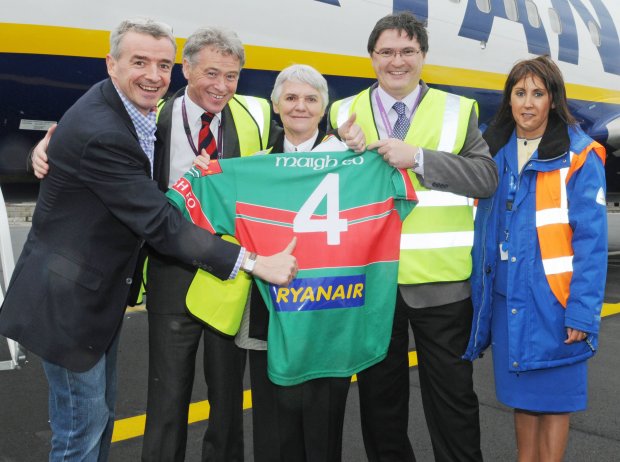 Ireland West Airport Knock are delighted to announce that today Monday 12th September Ryanair welcomed its 4 millionth passenger on flights to/from Ireland West Airport Knock as Transport Minister Leo Varadkar and Ireland West Knock MD, Joe Gilmore presented the 4mth passenger, Sister Maude Murphy from Knock, County Mayo with a free holiday for 2 to Lanzarote including flights, transfers and accommodation. To mark the occasion Ryanair also kindly donated 4000 euros to a charity of choice of Sister Murphys.
Special guests at Ireland West Airport Knock on the day to mark the occasion were Ryanair CEO, Michael O Leary, Minister for the Department of Transport, Tourism and Sport, Leo Varadkar TD, Minster for State at the Dept of Transport Mr Michael Ring TD and CEO of Tourism Ireland Mr Niall Gibbons.
Since Ryanair's first flight from Knock Airport departed to London Luton in 1987 Ryanair now operates 12 routes to deliver 450k passengers per annum, supporting and sustaining 450 local jobs in the Western region. Ryanair services accounted for 67% of the record tally of 84,000 passengers in August who travelled on flights through Ireland West Airport Knock.
Ryanair celebrates its 4mth Knock passenger by releasing 1m €14.99 seats for travel across its European network in November which are available for booking on www.ryanair.com until midnight Thursday (15th Sept).
Commenting on the special occasion Ryanair CEO Michael O Leary said "Ryanair is proud to have carried 4m passengers to and from Ireland West Airport Knock over the past 24 years, with passengers saving over €200m by switching to Ryanair's low fares over rival airlines high fares. Ryanair will carry over 450,000 passengers through Ireland West Knock in 2011, sustaining 400 jobs and underlining Ryanair's commitment to and investment in tourism in the West of Ireland."
Joe Gilmore, Managing Director, Ireland West Airport Knock added "We are delighted to mark this milestone in the airport's history and development with Ryanair and acknowledge their loyalty and commitment to the airport and the West of Ireland over the years in providing critical international access to the UK market and in recent times opening up the outbound sun holiday destinations of Spain, Portugal and now the Canaries on a year round basis. We look forward to developing additional new destinations with them in the near future and continuing to expand our range of services with them from this airport"