New CityJet Superjet Takes Off From Cork Airport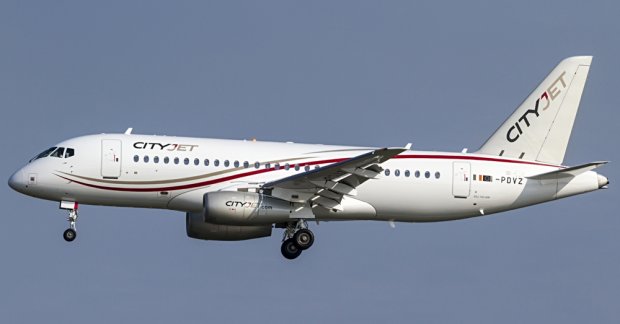 CityJet's new Sukhoi Superjet 100 aircraft took off on its maiden flight from Cork Airport to La Rochelle earlier today. This is the first of three new Superjets that CityJet will take delivery of this year.

CityJet, which operates routes to La Rochelle and Nantes from Cork Airport, is the first European airline to operate the Superjet SSJ100 in a deal that is worth over $1 billion. The 98-seat Superjet is a joint venture between Finmeccanica of Italy and Sukhoi Civil Aircraft Corporation of Russia and first flew in 2008, receiving European certification in 2012. CityJet has orders for 15 and options on a further 16.

Pat Byrne, Executive Chairman of CityJet, said: "The delivery of our first Superjet SSJ100 is a significant milestone for CityJet as we begin our fleet renewal programme. This is a fantastic aircraft and we look forward to introducing our customers to its high levels of comfort and efficiency in the coming years".

Cork Airport Managing Director, Niall MacCarthy said: "The new CityJet Superjet SSJ100 is a stunning, modern aircraft that offers outstanding levels performance. There are 78 Superjets in operation around the world since its first commercial flight in 2011 with many more to come on-line in the coming year. We're delighted that CityJet has scheduled one of its first Superjets from Cork Airport and I've no doubt our passengers will fully appreciate the comfort of the aircraft".

The CityJet Superjet SSJ100 aircraft has a 98-seat configuration laid out five abreast in a generous 32" seat pitch combining a wider seat and cabin height of over two metres for greater passenger comfort. The interior has been exclusively designed by Italian car designers Pininfarina, who are responsible for some Ferrari and Alfa Romeo designs.