Ryanair's First Cork Flight To Katowice Takes Off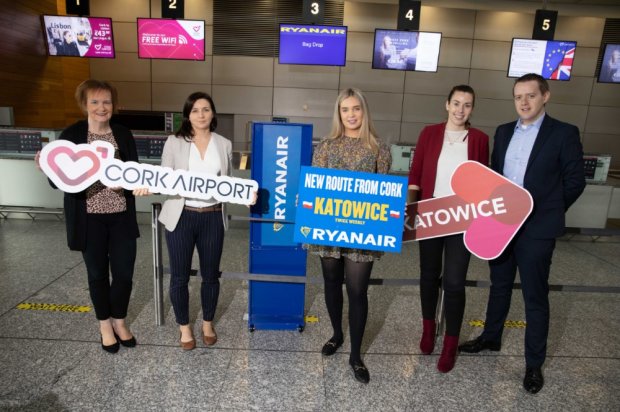 Last week, Ryanair celebrated the first flight of its new Cork to Katowice route. The new service, which is part of Ryanair's Cork Winter 2019/2020 schedule, operates twice weekly.
The new route will also be part of Ryanair's Summer 2020 schedule from Cork Airport so travellers can now book flights to Katowice up to October 2020.

"As Ireland's fastest growing Airport, and enjoying our fourth year of consecutive growth, we are delighted to add Katowice to our growing network of over 50 routes to the UK and Continental Europe. Katowice offers Munster passengers an exciting new winter destination, a city full of culture, along with being a gateway to some of the major ski resorts in Poland. Katowice is also located only an hour's drive from the beautiful city of Kraków," said Niall MacCarthy, Cork Airport's Managing Director.

To celebrate the start of this new route, Ryanair has released seats on sale from just €29.99, for travel from now until the end of March 2020. Tickets can be booked on the Ryanair website until midnight on Saturday, November 2, 2019.

"We're delighted to officially launch the first flight on our new route from Cork to Katowice today. Cork customers can now book their flights to Katowice as far out as October 2020," said Ryanair's Eimear Ryan.

Pictured L-R: Kathleen Walshe and Elaine McElligott from Cork Airport with Eimear Ryan from Ryanair and Kathryn O'Dwyer and Brian Gallagher from Cork Airport.