CORK AIRPORT WELCOMES NEW BELFAST SERVICE WITH MANX2.COM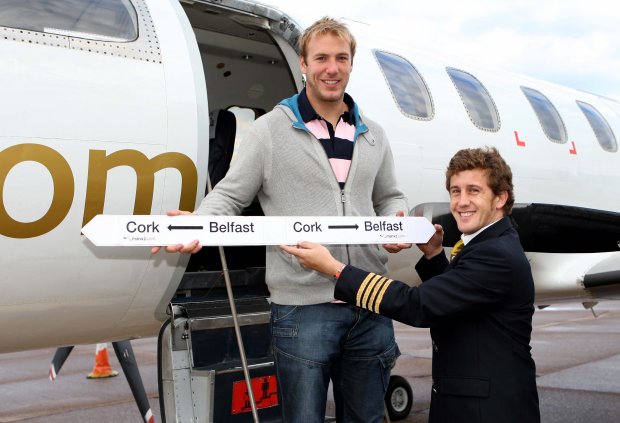 Ireland and Ulster rugby player Stephen Ferris flew into Cork Airport this week on a new twice daily Cork/Belfast service from Manx2.com.
The airline's new service is direct to Belfast City Airport and was announced as part of Manx2.com's expansion plans which also include choosing Belfast as its new Ireland hub and first permanent base outside the Isle of Man. Welcoming the new service, Cork Airport Aviation Marketing Manager Kevin Cullinane said, "Following the recent introduction of a weekend service between Cork and Galway with Manx2.com, we are very pleased to see a further commitment to Cork with today's announcement of a resumption of a double daily service between Cork and Belfast." The new twice daily service from Cork to Belfast will depart Cork Airport at 9:20am arriving in Belfast City Airport at 10:30am. An evening flight at 5:40pm from Cork will arrive in Belfast at 6:50pm. Passengers will benefit from the fast Metroliner regional commuter aircraft which offers a quality of service akin to the private charter experience. Fares start from €59.95 including all taxes and charges and a combined baggage allowance of up to 20 kilos per person. And from October 31, 2010, Manx2.com will move all its Northern Ireland operations from Belfast International Airport to its new base at Belfast City Airport.