SkyWork Airlines will open Bern-Vienna route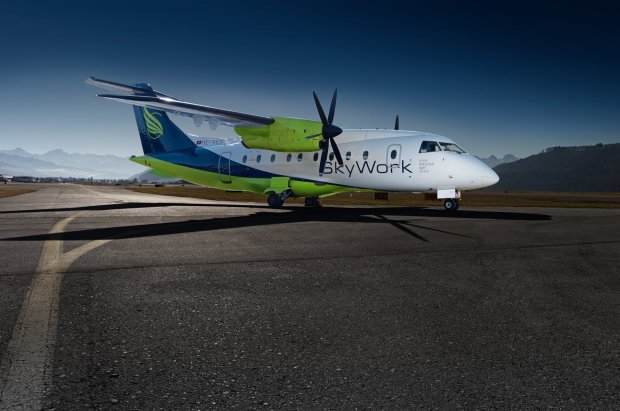 The Swiss airline continues to grow
Following the successful expansion of the route network last year, SkyWork Airlines is on course for continued growth in 2011. Next winter, the airline will fly to seven new destinations from Bern. Together with the existing destinations, this will create the largest route network ever to have been offered from Bern Airport. SkyWork Airlines is also planning to expand its fleet with three aircraft.
A real alternative to the big airports
In addition to Barcelona, Berlin, Hamburg, London City and Palma de Mallorca, SkyWork Airlines will offer several flights a week to Milan, Amsterdam, Rome, Budapest, Vienna, Belgrade and Madrid from October 30th, 2011. Some of the new flights will already start on September 5th. Flights on the new routes can be booked with immediate effect. This route network of 12 destinations from Bern-Belp creates not only a real alternative to the big Swiss airports, but also significant added value for Bern as an economic region. With up to two flights a day, visitors to the city of Bern, the Bernese Oberland and the canton of Wallis will be able to significantly cut their travelling time.
According to Tomislav Lang, CEO of SkyWork Airlines:
"The airport in Bern has never seen an expansion of this scale. The availability of flights used to be somewhat limited, especially in winter. This is now changing with 12 regular, year-round flights. As the homebase carrier of Bern Airport, we are proud to be making a significant contribution to the development of Bern and to being able to offer our customers a real alternative to Zurich and Basel. The clear advantages of Bern Airport are ist compact size, fast check-in, speedy security checks and affordable parking. This additionally strenghtens the broad-based offering of SkyWork Airlines. We are extremely satisfied with the growth in booking figures and therefore very confident that we are on the right path towards growth."
Matthias Häberli, director of Bern Airport, is also delighted about the upcoming route exansion:
"For us and our economic region, SkyWork Airlines is a very important partner, which now links Bern with the main European hubs. The importance of this international linkage for our economy and the attractiveness of Bern as a place to visit and do business cannot be overestimated."
Expansion of the fleet
The new flights and increased frequencies will require the fleet of aircraft to be boosted in time for the summer schedule. SkyWork Airlines will therefore be putting an additional Dornier 328 into operation at the beginning of March. A Dash 8 Q400 will follow in May, a third Dornier in October. This will be used mostly as an operational backup to begin with, and will then be deployed regularly from winter 2011. A third Dash is expected to be added to the fleet at the beginning of 2012.
New offices
SkyWork Airlines recently moved into its new offices at Aemmenmattstrasse 43 in Belp. The offices in Terminal North had grown too small due to the considerable increase in the number of staff. The new offices are spacious, modern and furnished entirely in th SkyWork Airlines look.