Lodz-Forli route opened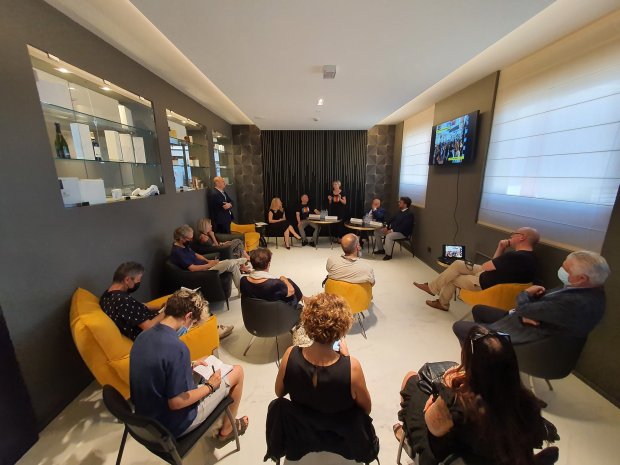 Press release
Last week at Forlì Airport in the Italian region-Romagna, was held a press conference to inaugurate a new route between Lodz and Forli. At the conference took part: Giuseppe Silvestrini, President of the Forli Airport, Alessandro Sozzi, General Director of the Forli Airport, Anna Midera, CEO of Lodz Airport, and Artur Fraj - CCO of Lodz AIrport.
Giuseppe Silvestrini, President of the Forli Airport, invites to visit Forli City and the Romania region. The city and the region offer a lot of monuments inscribed in the UNESCO heritage list, resorts on the Adriatic Sea, and excellent cuisine and wine.
Alessandro Sozzi, General Manager Forli Airport: "Today, not only two airports meet, but also two regions ready to start working together. We invite guests from Lodz to spend their holidays here in Romagna. Tourists can rest here and try Italian cuisine. We invite people to our beautiful Romagna, to enjoy the sun, sea, and our deliciousness."
The press conference was an opportunity to promote Lodz and the Lodz region in Italy and to invite Italians to come to Lodz.
"Our cities are similar. We have a universities section, but also an industry. We offer cultural events, concerts, and festivals. In Lodz, the prices are lower than in other cities in Poland. It makes staying in Lodz more beneficial for young people and businesses companies also. Polish people love to travel, they love Italy and they will certainly come to Forli. We hope that the Italians will visit Lodz city too" said Anna Midera, CEO of Lodz Airport.
Artur Fraj, Commercial Director, added that in the Polish national anthem Poles sing about "Italian land", and also, the Polish anthem was written in the Emilia-Romagna region. He assured that Polish people will be coming to Italy for the sun and delicious cuisine. He also, invited to come to Lodz – to the city has built in the 19th century by people coming from four cultures: Polish, German, Jewish, and Russian.
Reports from the conference in Italian media:
https://bit.ly/3wH9p2R
https://bit.ly/3i75E1w
https://bit.ly/2VHNbkw
The Lumiwings airline offers regular flights from Lodz to Forli in Italy - twice a week - on Tuesdays and Fridays. On Tuesdays from Lodz via Forli people can fly to Trapani in Sicily, and on Fridays to Palermo.