Huge opportunity for low-cost carriers at NUE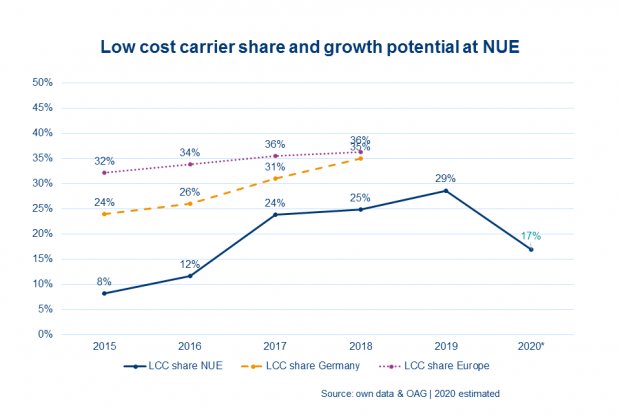 The low share of total air traffic held by low-cost carriers at NUE is another sign of Nuremberg's blue ocean potential in the budget travel sector.
Despite increasing and almost catching up with the rest of Europe in recent years, the share of total German air traffic (measured in seats) held by low-cost carriers is still below the European average. At NUE, the LCC share increased rapidly between 2015 and 2019, rising from 8% to 29%, but is still below the average for both Europe and Germany. With the closure of Ryanair's Nuremberg base, this share is expected to fall even lower (to around 17%). This trend indicates that here too, NUE offers blue ocean opportunities for low-cost carriers. In the coming months there is huge potential for both NUE and airlines in this segment to address the longer term trend and take advantage of the additional capacity that has been freed up for 2020.