Record 2018 Year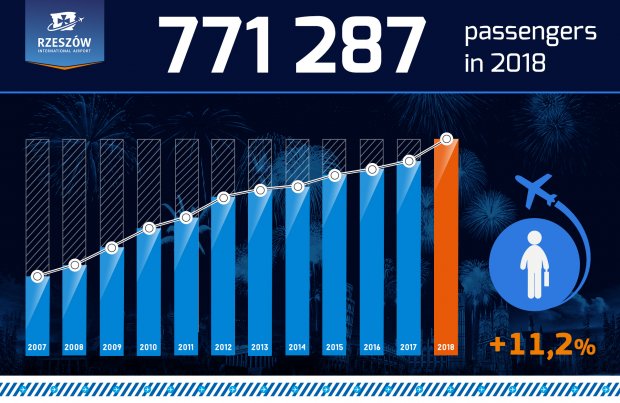 Over 771 000 Passengers handled in 2018
For the first time in the history, Rzeszow International Airport served over 750 000 passengers within a year. This number was reached on December 20 during afternoon Lufthansa flight from Rzeszow to Munich.
- 2018 was a record year for our airport – not only in terms of the number of passengers served, but also because of the diversity and attractiveness of our new routes. New York City, Tel Aviv and Athens are cities which need no further introduction - says Michał Tabisz, the President of the Rzeszow International Airport. Another important aspect was the development of the existing routes with hubs – Warsaw and Munich. I am glad that from April 2019, there will be 14 flights a week from Rzeszow to the capital of Bavaria at convenient times. It is good news, especially for business passengers, who are coming to Subcarpathia every year - adds Michał Tabisz.
RZE noticed 11,21% increase in numbers of handled passengers compared with 2017.
The last year was not only record in terms of the number of passengers handled but also due to variety and attractiveness of serving direct destinations like New York, Tel Aviv, Athens or Rhodes.
The traffic has grown
on charter flights by 41%
on regular flights by 19%
on low cost airlines by 4%
compared to 2017.