Southampton Airport celebrates 2 million passengers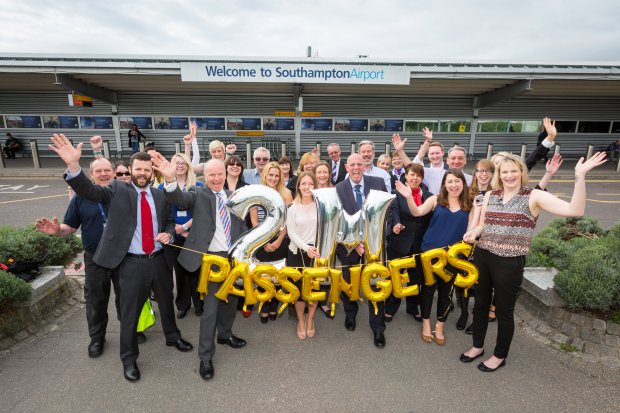 Southampton Airport has today announced that it has surpassed the 2 million passengers in a rolling year mark. Between May 2016 and April 2017 the airport welcomed 2,029,873 passengers, the highest number since commercial flights began nearly 100 years ago in 1918.
The same period the year before (May 2015 – April 2016) saw 1,776,391 passengers travel through the airport. In 1994, Southampton Airport had 450,000 passengers flying to around 15 destinations, 23 years later the passenger figures have more than quadrupled with 2 million passengers flying to around 40 destinations.
In 2016, the airport welcomed four new airlines including KLM with worldwide flights via its hub in Amsterdam, bmi regional which launched a new service to Munich and Aer Lingus which launched direct flights to Cork. It was also the first airport in the UK to offer scheduled flights with European based airline, Volotea, to Majorca and then Ibiza for 2017. Flybe alone announced five new routes from Southampton including Biarritz, Lyon, Toulon and Paris Charles De Gaulle. These new routes and airlines continue to contribute to the ongoing success of the airport and its growing passenger numbers.
Dave Lees, Managing Director at Southampton Airport, said 'We are thrilled to have hit the 2 million passengers milestone. The airport has been working extremely hard to deliver the routes and services that our passengers demand. We've enjoyed tremendous success over the course of the past 12 months in strengthening our route network and this has translated into passenger growth. Reaching 2 million passengers is a real landmark and we're determined to continue to build on this success to ensure Southampton Airport delivers for the city and the region. I would like to personally thank all of the passengers that choose to travel from Southampton Airport, we couldn't have done this without you! '
To celebrate the 2 million passenger milestone, Southampton Airport partnered with its airlines to give away free flights to thank passengers for their loyalty and for choosing to fly local. 200 cupcakes were given out in the departure lounge to passengers with 4 winning cupcakes hidden amongst them. Flybe gave away flights to any destination on its route network from Southampton, Aer Lingus supplied a pair of tickets to Cork, bmi regional to Munich and Eastern Airways to its newest destination, Rodez.