Southampton Airport launches new airline opening up routes into heart of the Swiss Alps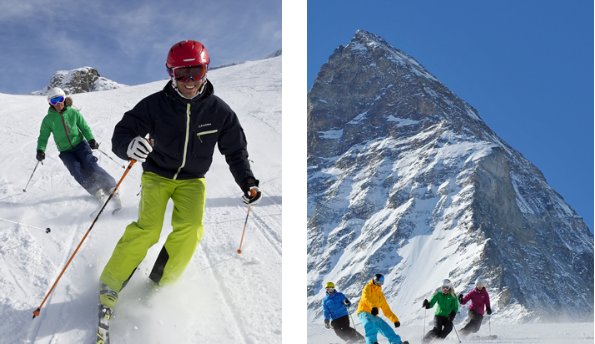 Southampton Airport's new airline, Powdair, has launched ticket sales through its website powdair.ski with a winter schedule that links Sion Airport with the south coast.
The skiers airline, based in Sion – the heart of Switzerland's winter sport region, the Valais, will offer skiers and snowboarders across the UK, Northern Germany and the Benelux Countries the chance to reach some of the world's most famous winter sports resorts quickly and efficiently.
Flights commence from December 15, 2017 and will significantly cut transfer times to some of Switzerland's most popular ski resorts for winter sports enthusiasts including Zermatt, Verbier, Saas Fee, Crans Montana and Nendaz. A variety of transfer options from Sion Airport to onward destinations are available to book at the point of ticket purchase, including shared and private journeys to the major resorts in the region.
Ticket pricing for powdair will be completely transparent with very little fluctuation across peak dates, meaning that families won't be paying extortionate amounts during the busier school holiday periods – it means people will need to book up fast, but at little or no extra cost than during the non-peak times.
Dave Lees, Managing Director of Southampton Airport, said 'it is with great pleasure that we announce this new service with powdair to Sion in Switzerland. One of our top priorities at Southampton is to be able to offer our passengers choice. This route will give local residents the chance to visit top ski resorts such as Zermatt, Saas Fee, Verbier and Crans-Montana with ease. We look forward to welcoming powdair to the airport at the end of the year'.
Zoë Ombler, Head of Commercial for powdair said: "It's not every day that we get to launch an airline and especially one that opens up a completely new route into an airport that is so close to some of the world's best ski resorts. The response we have already seen on social media shows the kind of interest people have in the area and regular, scheduled flights into Sion are long overdue. Every winter sports enthusiast knows about the sheer quality of ski resorts in the Valais region and we are proud to be able to help our customers reach those resorts faster than any other available option".
To book tickets visit: www.powdair.ski
Email: fly@powdair.ski
Photo taken from: https://www.powdair.ski/