Records beaten at Southampton Airport Runway Run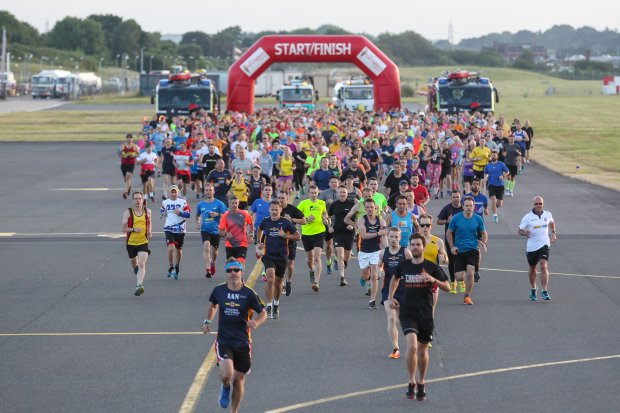 Southampton Runway Run!
Yesterday, on Sunday 25th June, 600 runners took to Southampton Airport's runway at sunrise to run 5km in aid of the airports Charity of the Year. Southampton Airport is the only commercial airport in the UK that opens up its runway to members of the public for this type of event and with 600 runners attending, the event was the biggest run of its kind in the UK to date.

This year the Runway Run raised funds for Hampshire and Isle of Wight Air Ambulance which brings an advanced critical care team to people in Hampshire and the Isle of Wight when they need it most. Available both day and night, 365 days a year, the Air Ambulance critical care team are called out many times a day to attend to road traffic collisions, sporting accidents, collapses and many other incidents. A highly skilled crew of Doctors, Paramedics and Pilots can be at the scene of an incident within minutes, ready to deliver the same level of care that you would expect from a hospital emergency department.
Over £16,000 has been raised from the Runway Run with more coming in over the next week from sponsorship. This brings the running total that the airport has raised with Hampshire and Isle of Wight Air Ambulance so far in 2017 to nearly £20,000.
Dave Lees, Managing Director at Southampton Airport, said 'Once again we were blessed with some brilliant weather for our Runway Run and were thrilled to see so many people turn up to support our wonderful Charity of the Year, Hampshire and Isle of Wight Air Ambulance. There is always such a fantastic atmosphere at the Runway Run which is great especially considering the very early start. We hope everyone enjoyed the truly unique experience of running down the runway at sunrise and we look forward to doing it all over again next year!'
Alex Lochrane, CEO of Hampshire and Isle of Wight Air Ambulance, said 'It was fantastic to see so many people up bright and early for the Runway Run yesterday. We were overwhelmed with the amount of support for the charity and incredibly proud to know that this was the biggest Runway Run to date. We'd like to thank Southampton Airport for allowing us to host this event and of course a huge thank you to all who participated.'
The fastest runners of the day were:
Female: 1st Lydia Browning, 2nd Claire Powell, 3rd Caroline Partner.
Male: 1st Ian Howard, 2nd Jamie Foster, 3rd Owen Watts.