Southampton Airport looks back on an excellent year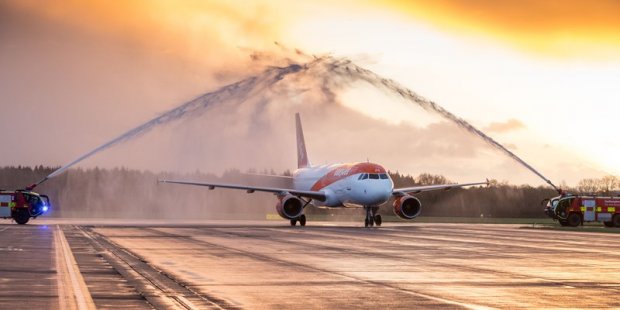 As we smoothly land into 2020 after having enjoyed a great year in 2019, Southampton Airport is fondly looking back on a year that was filled with many milestones and events that contributed to the airport's already rich history and community spirit.
easyJet returns for another Ski Season
2019 saw Southampton Airport welcome easyJet for a third consecutive year as the airline's popular ski route which operates thrice-weekly between Southampton and Geneva returned.
Relaunched by local Winter Olympics gold medal winner, Amy Williams, the much-loved route hit some important milestones in December which included the 100th flight which operated on Christmas Eve as well the 25,000th passenger flying out to Geneva on Boxing Day.
More awards for the best airport in the south
To seal its status as the best airport in the south, 2019 saw Southampton Airport walking away with not one but four awards from respected aviation and customer services bodies.
Awards included two from Which? one rating Southampton Airport as one of the very best in the country for passenger experience, partnered with the best airport in the UK for security queue times.
Other prestigious awards included a 'very good' rating for the airport's passenger accessibility from the Civil Aviation Authority.
A Vision for Sustainable Growth
After years of rigorous planning, research and consultation with industry experts – Southampton Airport published its finalised Master Plan and submitted its planning application to Eastleigh Borough Council to enable phase one of the plan.
The planning application, which was accompanied by public information events, proposes to extend the runway by 164 metres and if approved will see the airport creating up to 500 more jobs for the local community, offer more routes as well as contributing further to the local economy.
Raised over £100,000 for our Charity Partner
2019 was the last of a fantastic three year Charity of the Year partnership with Hampshire and Isle of Wight Air Ambulance –ending on a high with more than £100,000 being raised.
Charity initiatives for the vital organisation included the airports fire service cycling the length and breadth of the country from Aberdeen Airport back to Southampton Airport, as well as the annual runway run where proceeds raised went to HIOWAA.
Reduced Carbon Footprint for SOU
Last year saw Southampton Airport reduce its carbon footprint by saving an astonishing 970 tonnes of Co2 in that year alone.
Other achievements included an overall 43% decrease of emissions compared to that of 2017 partnered with a 6.9% decrease of electricity consumption – the future for Southampton Airport is certainly green.
Welcomed leaders from different countries for the D-Day 75 commemorations
Lastly but not least, Southampton Airport was the base for different political fleets that saw world leaders assemble at the airport on transit to the historic D-Day celebrations in Portsmouth.
From the USA's Presidential Air Force One, a Boeing 757, to the presidential jets of France, Poland, Greece and Luxembourg – this was certainly a historic day for the Airport that is heavily linked to the World War.
Reflecting on the year, Neil Garwood, Managing Director at Southampton Airport, said: "2019 has been a great year for Southampton Airport's staff, passengers and our wider community.
"We are looking forward to an even better 2020 which will again be heavily focussed on sustainable growth, maintaining our relationship with our community and carrying on the great work we do with our local charities."