Enfidha-Hammamet Airport celebrates 10th anniversary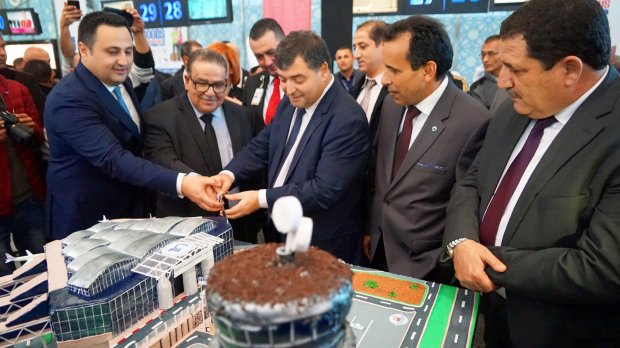 Operated by TAV Airports, a member of Groupe ADP, Enfidha-Hammamet Airport celebrated its 10th anniversary. A successful public-private partnership project and one of the largest foreign direct investments in the country, Enfidha offers world class services to Tunisia's visitors and contributes to the promotion of the tourism industry in the country.
Enfidha-Hammamet Airport celebrated its 10th anniversary in a ceremony held at the airport and attended by the Minister of Tourism and Handicrafts and interim Minister of Transport Rene Trabelsi, Sousse Governor Adel Chlioui, TAV Tunisie President Director General Guclu Batkin, high officials of both ministries as well national and local authorities and airport's employees and stakeholders.
Operated by TAV Tunisie, a subsidiary of TAV Airports, a member of Groupe ADP, Enfidha Hammamet international airport offers a strategic and convenient entry point for Tunisia's visitors, at the favor of its ideal location at a crossroad of the country's major cities and main touristic resorts
Guclu Batkin, President Director General of TAV Tunisie, said: "This happy occasion gives us the opportunity to look back on the history of our venture and to project ourselves into the future to perceive all that Enfidha Airport can bring to Tunisia's tourism and transport sectors in the decades to come. In 2007, TAV Airports came to Tunisia with a huge investment at a time where the global economy was going through a severe financial crisis and all international investors were delaying their projects. We were confident in Tunisia's socio-economic prospects and in the ingenuity of the Tunisian people. We are now delighted to realize that we successfully met the challenge and our celebration today cannot be passed without acknowledging all who helped and contributed across the past decade
Opened on 4 December 2009, Enfidha-Hammamet Airport distinguished itself as the first environment friendly airport in Tunisia by qualifying to Airport Carbon Accreditation (ACA) Level 3 Optimization in 2019.
TAV operates Monastir and Enfidha-Hammamet Airports in Tunisia. In the first 11 months of 2019, the two airports served 3 million 53 thousand passengers, with a 24% increase compared to the same period in 2018.
About TAV Airports
TAV Airports provides integrated services in all areas of airport operations, with a global footprint in 28 countries. A member of Groupe ADP, TAV Airports is part of the largest airport management platform globally. The company operates Ankara Esenboga, Izmir Adnan Menderes, Gazipasa Alanya, Milas Bodrum and Antalya Airports in Turkey as well as Tbilisi and Batumi Airports in Georgia, Monastir and Enfidha-Hamammet Airports in Tunisia, Skopje and Ohrid Airports in Macedonia, Medinah Airport in Saudi Arabia and Zagreb Airport in Croatia. TAV Airports is also active in other areas of airport operations including duty free, food and beverage, ground handling, IT, security and operation services. Within the same context, TAV Airports also operates duty free, food and beverage and other commercial areas at Riga Airport in Latvia. Together with its subsidiaries, the Company provided services to one million flights and 152 million passengers in 2018.
For further information: Erhan Ustundag, +90 212 463 30 00/2097 and +90 530 228 80 59, erhan.ustundag@tav.aero