Routes Americas 2014: Live
This year's Routes Americas is hosted by Ministry of Tourism El Salvador and Corsatur, now in it's 7th year Routes Americas is the unifying event bring the decision makers from North, Central and South America together to discuss air service development.
For more information about the host, attendees and event click here
​

#RoutesAmericas: Highlights
​

#RoutesAmericas: Live Tweets about "#RoutesAmericas"
​

Programme

​ Tuesday 25th February 2014

08.00 Registration Opens

08.55 - 09.40 Southwest Briefing - Route Exchange Airline Briefing

08.30 – 10.55 Face to Face Meetings

10.55 – 11.25 Refreshment Break

11.50-12.35 TAR Mexico - Route Exchange Airline Briefing

11.25 – 12.35 Face to Face Meetings

12.35 – 14.00 Lunch and Handover Ceremony
Location: Poolside Gardens

14.00 – 16.25 Face to Face Meetings

16.25 Final Meeting Ends
​

Download the app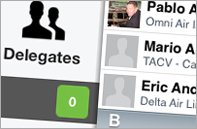 Only available to registered delegates this year's Routes Americas app gives attendees all the latest event information on the device of their choice. Available on iOS, Android and in HTML5 format for BlackBerry, Windows and laptops the app is designed to engage the route development community attending in El Salvador.
​

Join the conversation!

Whether you are you in attendance with us in El Salvador or simply following the conversation online - tweet, facebook and instagram your content to the #RoutesAmericas hashtag!

Tweet #RoutesAmericas Tweet to @routesonline ​
​

Leave a comment/question