Routes Asia 2014: Live
This year's Routes Asia is hosted and Located on the Mediterranean coast in South-East France, Marseille-Provence Airport (MRS) is ideally situated at the intersection of air, rail, and road networks. It is the gateway to the South of France - to Marseille and to the famous Provence.
For more information about the host, attendees and event click here
​

#RoutesEurope: Highlights
​

#RoutesEurope: Live Tweets about "#RoutesEurope"
​

Programme

​ Saturday 5th April 2014

08.00 Registration, Diary Advice and Networking Area Open

08.30 - 10.55 Face-to-Face Meetings

10.55 - 11.25 Refreshment Break
Location: Networking Area

11.00 - 12.00 Routes Asia 2015 Future Host Press Conference
Location: Meeting Room 5

11.25 - 12.35 Face-to-Face Meetings

12.00 - 14.00 Lunch Hosted by Future Host For Routes Asia 2015
Location: BCCk, Meeting Room 12, 13 & 14

14.00 - 15.35 Face-to-Face Meetings

15.35 - 16.05 Refreshment Break
Location: Networking Area

16.05 - 17.40 Face-to-Face Meetings
17.40 Final Meeting Ends
​

Download the app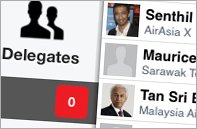 Only available to registered delegates this year's Routes Asia app gives attendees all the latest event information on the device of their choice. Available on iOS, Android and in HTML5 format for BlackBerry, Windows and laptops the app is designed to engage the route development community attending in Kuching.
​

Join the conversation!

Whether you are you in attendance with us in Kuching or simply following the conversation online - tweet, facebook and instagram your content to the #RoutesAsia hashtag!

Tweet #RoutesAsia Tweet to @routesonline ​
​

Leave a comment/question