Chancellor Angela Merkel will grant the International Gender Equality prize EUR 150,000 to a cause combating violence against women and girls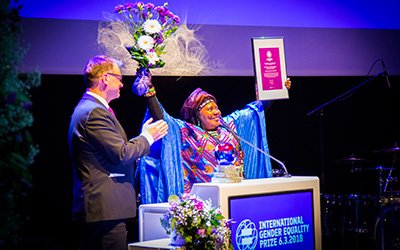 The award ceremony for the prize introduced by the Finnish Government was held in Tampere on 6 March. The main theme of the event was violence against women and girls. Chancellor Merkel, who was named the recipient of the award in December, will grant the EUR 150,000 prize to a Niger civil society organisation advocating the rights of women and girls. The organisation is planning to use the money to establish a residential shelter.
"We must not tolerate the fact that women are made targets of aggression simply because they are women," Chancellor Merkel emphasised in her video greeting and called the organisation a beacon of hope.

"This international prize draws attention to the need to promote equality across the globe."

In her video greeting, Executive Director of UN Women Phumzile Mlambo-Ngcuka also drew attention to the importance of the work on combating violence against women and girls.

"Chancellor Merkel has highlighted one of the most widespread, persistent and devastating human rights violations in our world today," she said.

Mariama Moussa, the founder of SOS Femmes et Enfants Victimes de Violence Familiale and internationally renowned promoter of the rights of women and girls was very thankful to receive the prize.

She explained that the prize will allow them to make a long-time dream of the organisation come true. They want to establish a residential shelter where women and children who are victims of gender-based violence will be safe and receive physical and psychological help.

Prime Minister Juha Sipilä handed out the prize to Germany's Ambassador to Finland Detlef Lingemann who accepted it on behalf of Chancellor Merkel. This was the first time the prize was awarded. The Prime Minister hosted the event together with Anna-Kaisa Ikonen, Chair of the Tampere City Council.

"The aim of the prize is to promote equality between men and women around the world," Prime Minister Sipilä said in his speech. "Gender equality is one of the core values of Finnish society."

In addition to the award ceremony, the event included an international expert panel on violence against women.

"Women's rights are human rights. Every woman and every girl on this planet have the right to live free from violence and the fear of violence," said Annika Saarikko, Finnish Minister responsible for equality issues.

"I promise to bring the messages of this important event today to the people at the United Nations, where I will attend a CSW meeting about women's and girls' rights next week."
See the original article here: https://www.tampere.fi/en/city-of-tampere/info/current-issues/2018/03/06032018_2.html