Message from the Premier of Québec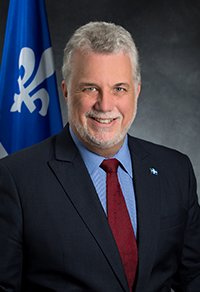 Québec has very strong ties with the aviation industry. Moreover, the very first international aviation conference took place in Montréal in 1910. The head office of the International Civil Aviation Organization (ICAO) is located in our metropolis. The C Series, the world's best aircraft in its category, is built by Bombardier, a Québec company. It is, therefore, a pleasure for us to welcome the prestigious international convention Routes Americas 2019 to our national capital! This will be an opportunity for the participants to discover our attractions and our breathtaking scenery, and to observe the vitality of our economy.
Indeed, Québec City is a very popular tourist destination. The first fortified city in North America, it is considered as a UNESCO world heritage treasure. Visitors are quickly charmed by the beauty of its surroundings, by the friendly hospitality of Quebecers and by the wide variety of events that enliven the city, including the renowned Québec Winter Carnival, which will be taking place during the convention.
Our national capital is also a lively modern city, which relies on its economic vitality to attract and retain the best talents. In recent years, the economic situation in Québec City has progressed considerably: we have nearly achieved full employment. This favourable situation may be attributed, in part, to our concern for maintaining balanced public finances and for ensuring effective control of the debt, as well as to our ability to stimulate innovation and investment.
This climate of trust that we have created enables us to reinvest in our societal projects, including mobility. Recently, we adopted a strategy to upgrade the services in our regional airports, since certain regions in Québec are served primarily or exclusively by air links.
I hope you will participate in this prestigious event in large numbers and make plenty of new connections. By gathering together to discuss the same issues, we can benefit from the strength of our pooled ideas and inspire one another through our respective experience in order to innovate!
Philippe Couillard
Premier of Québec