The 26th World Route Development Forum
Milan, Italy • 10 - 12 October 2021 |
Virtual • 18 - 20 October 2021
Event App
Sponsored by Swedavia, the Routes app gives attendees all the latest event information on the device of their choice.
Available on iOS, Android and in HTML5 format, the app is designed to engage route development stakeholders attending the event in Milan. Download the World Routes app today and have all the latest event information at your fingertips.
Download on iOS Download on Android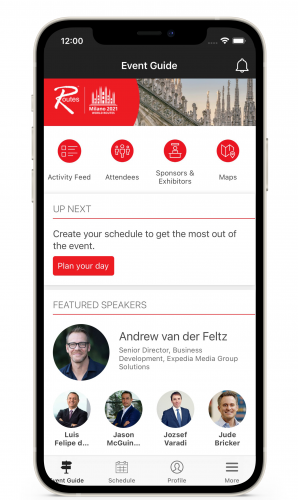 Features of the app include:
Full delegate listings: View all registered delegates, filter by organisation type and view the number of attendees representing the relevant company.
On-site Meeting System access: Accept, decline and request extra meetings on site directly through your mobile device.
Tailored agenda functionality: View the entire event programme and create your own agenda by picking and choosing which talks, briefings or sessions you wish to attend.
Event transfers information: View the intra-event and airport transfer schedule
Airline Table locations: Find where the airlines are seated with a simple list, making airlines easy to find.
If you have any issues logging in or registering for the Routes app, please contact the Routes marketing team.
Please note the Routes app is only available to those who have registered. Access will not be granted to those who have not registered for this year's event.
Download on iOS Download on Android

World Routes app sponsor