OAG, a UBM Aviation company, is introducing a new product that will offer the most flexible information solution for industry executives, delivering notifications about the latest schedule changes to customers as soon as they happen. OAG alerts will offer users a strategic advantage in this competitive industry, providing immediate access to schedule alterations, enabling them to make reactive commercial decisions immediately.
The fully-automated system can be personalised by users to cover airlines, airports, particular routes and even codeshare partnerships. The flexible alert parameters mean that customers can amend the search criteria as and when they choose enabling revenue management, commercial planning & operational teams to make informed decision about the latest changes in the market to gain a competitive advantage. For example, revenue management parameters can be adjusted to squeeze yields and enhance margins, while capacity can be altered to meet market demand or capitalise on the opportunity or respond to competitive action.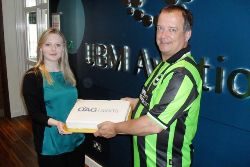 The data is sourced directly from OAG's global database that contains schedules for over 1,000 airlines including low-cost carriers. This covers over 28 million flight departures up to 12 months in advance and the company confirms that it processes up to 50,000 airport schedule changes or update messages a day. The OAG alerts product has also been tailored for both airlines and airports enabling airlines to maximise yields and airports to seize competitive advantages as schedule changes happen.
"OAG alerts helps our customers gain a first-mover advantage in the rapidly shifting airline industry landscape, where every opportunity to make faster business decisions, eliminate inefficiencies and increase margins must be seized," said John Grant, Executive Vice President, UBM Aviation, Networks. "Having moment-by-moment access to competitive movements enables rapid response to potential advantages and threats, and can literally mean a gain or loss of millions of dollars in incremental revenue."
For more information on OAG alerts, airlines should click here and airports should click here.
Click here for our exclusive interview with John Grant, Executive Vice President, Networks, UBM Aviation, on the latest developments at the company.