UBM Aviation Routes Limited announced yesterday that the City of Chicago will be the host city for the 20th edition of World Routes, the flagship event of the Routes events portfolio. The 20th World Route Development Forum will be held in 2014 and will be hosted by The Chicago Department of Aviation (CDA) and the Chicago Convention & Tourism Bureau (CCTB).
Speaking at the announcement press conference, which was held in McCormick Place the venue for World Routes 2014, Rosemarie S. Andolino, CDA Commissioner said: "We are thrilled that Chicago was selected to serve as the host city for the 20th World Route Development Forum in September 2014. This event will provide tremendous tourism-related economic benefits to Chicago, along with the opportunity to showcase O'Hare and Midway International Airports to airline executives."
Andolino was joined by Mark Tunney, CCTB Senior Vice President, Convention Sales & Services; Jerry Roper, Chicagoland Chamber of Commerce President and CEO; Mike Malik, Chief Commercial Officer, UBM Aviation Routes; as well as representatives from World Business Chicago and the Illinois Restaurant Association, to make the announcement at McCormick Place, where the Forum will be held in 2014.
"The 2014 Forum strategically aligns with the Bureau's tourism marketing efforts and its overall plan of increasing international visitation to Chicago," said Tunney. "It is an honor to showcase Chicago to a diverse group of buyers who have the potential to bring thousands of international visitors to our city and to position Chicago as a gateway destination for Illinois and the Midwest."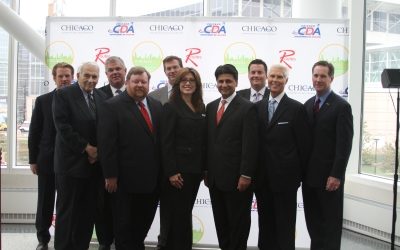 "The Chicago bid team did an excellent job of engaging its key stakeholders in supporting the bid for World Routes 2014, "said Malik. "The team was able to showcase what a fantastic city Chicago is to our selection team. Naming Chicago as a host of World Routes is strategically important for the Routes business, not only due to its beautiful city and state-of-the-art meeting facilities but also due to its excellent location. This will enable World Routes 2014 to have an increased attendance from the North American market and will ensure attendance from all other worldwide markets because of the global flight accessibility that Chicago's airports offer."
The selection of Chicago as the host city represents the culmination of a process that began in late 2010. A close partnership between the CDA, CCTB, the Chicagoland Chamber of Commerce, World Business Chicago, and the Illinois Restaurant Association led the effort to pursue this opportunity. Chicago competed against other major international cities, and this selection serves as evidence of Chicago's stature as a world-class destination.
Chicago's two international airports currently provide nonstop service to over 30 countries in addition to a robust domestic network. Combined, O'Hare and Midway serve approximately 85 million passengers annually. Several international airlines have recently commenced or announced plans for new or additional services at Chicago's airports. These airlines include Cathay Pacific Airways, Aeromexico and Copa Airlines at O'Hare and VivaAerobus and Volaris at Midway. The CDA and its City business partners continue to aggressively recruit potential new entrant carriers and work with airlines currently serving Chicago to enhance air service to the region.