KLM Royal Dutch Airlines has announced the launch of a twice daily link between Amsterdam Schiphol and Kent's International Airport at Manston in South East England. The confirmation of the new route follows an extensive period of discussions between the airport's management and the network team at the Dutch national carrier.
According to its flight schedule, KLM will overnight a single Fokker 70 at Manston from April 2, 2013 to offer early and mid-morning departures from the UK airport and morning and late evening rotations from Amsterdam. This suggests a mainly outbound market from the UK with passengers able to transfer at Amsterdam to onward KLM connections or to complete a full day of business in the Netherlands before returning to the UK.
"The new services will be a real benefit to Kent and its residents. Passengers will be able to arrive at Manston, park adjacent to the terminal building, check in and be on the flight to Amsterdam within minutes, a hassle-free experience that makes travelling a pleasure," said Charles Buchanan, Chief Executive Officer, Manston Airport. "Passengers from Manston can leave home without the worries of road congestion or excessive flight delays affecting their journey."
The KLM service will be the first scheduled flights from Manston Airport in over a year after Flybe suspended its route from the Kent facility to Edinburgh in March this year having already closed routes to George Best Belfast City in October 2011, Manchester in April 2011 and Jersey in September 2009. In fact, only CityJet currently offers any passenger flights from Manston with a summer charter offering to Jersey. The Amsterdam link will also be the first international services at Manston since July 2005 when based carrier EUJet suspended operations after less than a year of flights.
In its ten months of operation from Manston, EUJet offered a network that encompassed 29 different destinations from the then branded Kent International Airport, including a mix of domestic destinations and city and holiday destinations across Continental Europe. This included an up to twice daily Fokker 100 service to Amsterdam, a route it carried around 30,000 passengers between October 2004 and July 2005 according to official UK Civil Aviation Authority (CAA) data.
This experience shows sufficient demand for the new air route and a recent survey completed by Manston Airport as part of its courting process with KLM shows a strong support for regular links to a major hub. "As part of our route development activity, we have been in discussions with KLM for some time. The airline asked us to conduct a survey of local residents to find out what the level of demand was for the service," explained Charles Buchanan.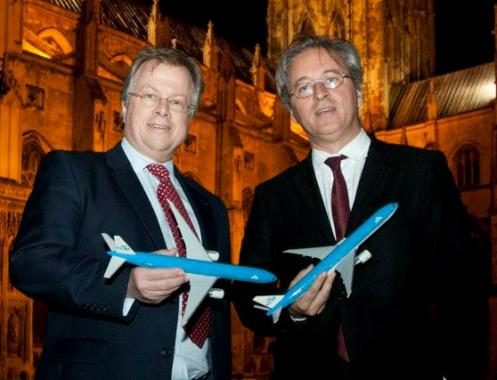 According to airport sources almost 10,000 people responded to the questionnaire with around 96 per cent suggesting that would actively select a flight from Manston over an alternative location if there was flight availability from their local airport. "We were staggered by the level of response," added Charles Buchanan.
This month there are already 3,265 scheduled departures between Amsterdam and the UK offering 397,464 seats from the Dutch international gateway. Through its mainline and KLM cityhopper division, KLM has a 52.8 per cent share of departures and a 48.9 per cent share of available seat capacity. This positions the Dutch flag carrier as the leader in this market with its closest rival being low-cost carrier easyJet with a 19.1 per cent share of departures and 25.2 per cent share of capacity.
KLM operates in its own right to 13 different destinations across the UK from Amsterdam Schiphol offering 194,229 seats in each direction this month (it also offers codeshare services with partners CityJet and Flybe to Inverness, London City and Southampton). This represents a 14.5 per cent decline on the capacity it offered five years ago when it also offered its own operated flights to Cardiff and London City. In this period it also introduced and ended flights to Liverpool John Lennon Airport.
According to Henri Hourcade, General Manager for Air France/KLM in the UK there was strong demand from the regions for services that connect onwards on KLM's global network. "By connecting the UK regions to worldwide destinations, KLM is offering more choice to holidaymakers, but equally adding to the infrastructure for regional UK businesses," he said.
According to O&D data, an estimated 2.4 million KLM passengers originating or ending their journeys in the UK connected via its Amsterdam Schiphol hub to destinations outside the Netherlands, a 57.2 per cent share of its approximate 4.17 million passenger traffic from/to the UK. The main flows were between the UK and destinations in USA (10.1 per cent of total), Germany (5.1 per cent) and China (3.3 per cent). The ten largest individual markets were New York, Lagos, Dubai, Beijing, Manila, Accra, Berlin, Shanghai, Hong Kong and Warsaw.
"Demand for efficient and convenient schedules to long-haul destinations from the UK continues to grow, to emerging markets in Latin America, Africa and the Far East, but equally to established markets such as North America," added Henri Hourcade, reinforcing this data.
In the table below we highlight KLM's November 2012 capacity to the UK and how this compares with the same month last year. The carrier's total seat capacity is down 11.2 per cent versus November 2011 with Humberside the only airport across the UK to see a rise in capacity compared with last year. The largest declines in seat capacity have occurred at Birmingham (down 14.8 per cent) and Glasgow (down 18.8 per cent), markets it faces competition from flybe and easyJet, respectively.
KLM SCHEDULED AIR SERVICES TO THE UNITED KINGDOM (non-stop departures; November 2012)

Rank

Airport

Departures

Available Seats

% Network Capacity

Seat Change Capacity (vs 2011)

1

London Heathrow (LHR)

340

42,678

22.0 %

(-5.3) %

2

Manchester (MAN)

150

23,622

12.2 %

(-7.9) %

3

Edinburgh (EDI)

150

18,936

9.7 %

(-6.2) %

4

Birmingham (BHX)

146

18,229

9.4 %

(-14.8) %

5

Aberdeen (ABZ)

142

16,050

8.3 %

(-10.2) %

6

Newcastle (NCL)

120

15,252

7.9 %

(-14.4) %

7

Glasgow (GLA)

120

14,882

7.7 %

(-18.8) %

8

Bristol (BRS)

116

9,280

4.8 %

(-3.3) %

9=

Humberside (HUY)

90

7,200

3.7 %

1.1 %

9=

Leeds Bradford (LBA)

90

7,200

3.7 %

0.0 %

9=

Norwich (NWI)

90

7,200

3.7 %

0.0 %

12

Cardiff (CWL)

86

6,900

3.6 %

(-4.2) %

13

Durham Tees Valley (MME)

85

6,800

3.5 %

(-4.5) %

TOTAL

1,725

194,229

-

(-11.2) %