Qatar Airways Announces New Athens - New York Link
Fast-expanding Middle East carrier Qatar Airways made the surprising announcement this week that it will inaugurate scheduled passenger flights between Athens International Airport and New York from next year. Although the carrier has announced only limited schedule information about the daily link, it is understood that it will originate in Doha and will be flown using one of its new Boeing 787 Dreamliners. It will likely serve John F Kennedy International Airport in the Big Apple, a destination Qatar Airways already flies directly to from Doha and the main oneworld terminus in the city.
At a press conference at the Athens Hilton Hotel, Akbar Al Baker, Chief Executive Officer, Qatar Airways revealed the surprising news to introduce the new route as the carrier celebrates the eighth anniversary of its operations to the Greek capital. "Qatar Airways supports Greece with its presence not only in the good times but also in the crisis period," he said, adding: "We will continue to support our presence in Greece, creating new jobs as well."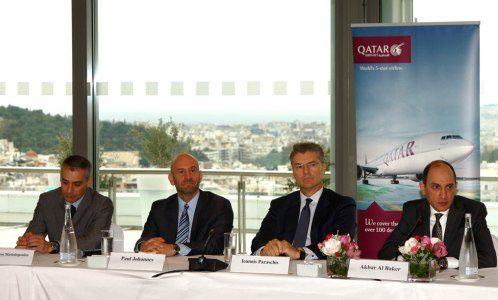 Alexandros Michalopoulos, Commercial Manager Greece & Cyprus, Qatar Airways; Paul Johannes, Vice President Europe, Qatar Airways; Dr Yiannis Paraschis, Chief Executive Officer, Athens International Airport and Akbar Al Baker, Chief Executive officer, Qatar Airways.
The announcement comes just weeks after Delta Air Lines suspended its own operations on the Athens – New York after switching its year-round offering to a seasonal summer only service. This month represents the first month that the Greek capital has not been linked to New York in at least 30 years. The route had been one of a small number of long-haul markets served by Olympic Airways, one of the predecessors the current carrier Olympic Air. Through the 1980s the route was also flown by Trans World Airlines (TWA) on a year-round and towards the end of the decade on a seasonal basis meaning that during many months of the year there were double daily flights.
Delta Air Lines entered the market in May 1993 with a seasonal summer link and initially operated alongside Olympic Airways and TWA. However TWA pulled off the route in April 1997 to be replaced from July 1997 by Tower Air and Delta took advantage of its established position in the Greek market by turning the seasonal service into a year-round operation. Tower Air pulled off the route in May 2000.
"The fact that Qatar Airways is further strengthening its operations out of Athens and planning to launch the route between Athens – New York during the second trimester of 2013 is a very important development not only for Athens International Airport and the city of Athens, but overall for Greece."
Ioanna Papadopoulou,
Director Communications & Marketing,
Athens International Airport
In June 2007, Continental Airlines also entered the Athens – New York market with flights from its Newark Liberty International Airport hub. This route was initially flown on a year-round basis but was dropped for winter 2008/2009 and switched to a summer only operation. Olympic ended its long-haul service on the route in September 2009 and Continental (now part of United Airlines) failed to return for the summer schedule this year – the US carriers also faced limited competition from local Greek carrier Hellenic Imperial Airways during summer 2011.
Since November 2011 Delta has been the sole carrier serving the route, providing an up to daily Boeing 767 or Airbus A330-300 link providing up to 9,238 seats a week in each direction. When the carrier resumes flights in May 2013 it will schedule a 767 on the route offering around 6,696 seats a month. This schedule information for the past decades shows that the route has gone from seeing 93 monthly rotations offering almost 40,000 seats a month in each direction in summer 1985 to no flights this winter.
There remains a strong demand between Athens and New York and O&D data shows that an estimated 174,000 passengers flew between the Greek capital and John F Kennedy International Airport in New York last year. Interestingly, around a quarter of these passengers transited via other European hubs suggesting demand exists for additional flight options on the route. Around 10,000 of these O&D passengers flew with British Airways (BA) via London Heathrow and with Qatar Airways' impending entry into the BA-led oneworld alliance this could be viewed as a strategic move from the grouping to further boost its share of this market.
The O&D demand in 2011 showed initial signs of a recovery with estimated passenger numbers up 16.7 per cent on the previous year, although the figure remained down on the demand the previous five years and a decline of 20.9 per cent on the pre-economic crisis levels recorded in 2006.
Qatar Airways made its debut in Athens in 2004, adding non-stop flights from June 2005 and it introduced a second daily rotation on its route from Doha in October 2009. It continues to operate two daily services operated by a mix of A320 and A321 aircraft.
"The Athens – Doha route has become the number one intercontinental destination in absolute number of passengers at Athens International Airport, surpassing for the first time in the airport's history, New York City," added Akbar Al Baker. "And launching this new route from Athens to New York from the middle of next year will provide passengers with an even more unique travel experience, strengthening Qatar Airways' reputation as the airline of choice for leisure and business travellers."
Describing the Athens route as "a combined symbol of a home base and a gateway", Al Baker stated that the "ties that have been forged between us during these past eight years extend the horizons of a solid and lasting cooperation between Qatar Airways and Greece which are here to stay. And it is here to grow further."
The idea of serving the New York market on a one-stop strategy via Europe is not a new concept for Qatar Airways as it previously flew a Doha – Geneva – Newark routing using an A330 between June 2007 and October 2008 prior to the introduction of its non-stop 777 flights between Doha and New York in October 2008.
For AIA Qatar Airways' announcement represents a massive development for the facility. Not only does it now have additional transatlantic capacity, it now has the return of a year-round link to New York and a service flown by a respected airline. Speaking exclusively to The HUB following Mr Al Baker's announcement, Ioanna Papadopoulou, Director Communications & Marketing at Athens International Airport said: "The fact that Qatar Airways is further strengthening its operations out of Athens and planning to launch the route between Athens – New York during the second trimester of 2013 is a very important development not only for Athens International Airport and the city of Athens, but overall for Greece."
"Throughout the years, Qatar Airways has demonstrated a very dynamic and successful presence in Athens, with Doha being the top Non-EU destination out of our airport in 2012. When you consider the current economic crisis has put a number of challenges in front of us, this strategic decision of Qatar Airways becomes even more important and indicates the significant potential of Athens," she added.
Over recent months Qatar Airways has not been alone in looking at the New York market and it is understood that a new start-up carrier still believes there is potential to develop its own transatlantic ambitions from Greece's largest international gateway. SkyGreece Airlines intends to launch operations next spring with two Airbus A340-300s and according to its corporate literature plans connections to Chicago and New York in the US and Montreal and Toronto in Canada. The carrier was incorporated by Peter Chilakos, Fr Nicholas Alexandris and Bill Alefantis in September this year and is currently recruiting its senior management team as well as flight and cabin crew.
Despite the obvious challenges that have affected the aviation business in Greece these past couple of years as the country has faced the most severe financial and economic crisis in its recent history, AIA has continued to secure new business. Ahead of this week's announcement from Qatar Airways, the airport had already secured over 15 new routes during the current calendar year.
These included new services from local operators Aegean Airlines to Budapest, Kuwait, Prague and Tbilisi, Olympic Air to Tel Aviv and Astra Airlines on domestic routes to Sitia and Thessaloniki. Additionally, Cyprus Airways this winter made its debut in the Greek domestic market with three daily flights to Thessaloniki, twice daily services to Heraklion and a daily rotation to Rhodes.
Elsewhere, the airport has secured new routes from a number of major international flag carriers and leading low-cost operators. Air France has introduced flights to Nice and Toulouse and the extension of its Marseille route to a year-round operation; easyJet started flying to Geneva; Air One to Venice; Egypt Air launched services to Alexandria and Libyan Airlines reestablished services to both Tripoli and Benghazi.
According to AIA executives, this network growth has been achieved thanks to its strong partnership concept with its airline operators and a scheme of aeronautical incentives and marketing support. For many years now it has been offering a "risk-sharing" incentive scheme, providing significant discounts to its charges for the airlines developing new and /or additional services out of Greek capital.
AIA's incentives have significantly benefited its partner airlines and in 2011 rebates of more than €4.25 million were paid, while another €500,000 was distributed to carriers following the completion of an ad-hoc supportive incentive the same year (Passengers' Seasonal Incentive). On top of this another €4 million was distributed to airlines for extensive advertising programmes and promotional activities.
In 2012, AIA maintained (for the 4th consecutive year) all its charges at the same level as the previous year. "Given the ongoing downturn of the Greek economy, in addition to the developmental aeronautical incentives, it was considered essential to further enrich the existing marketing incentives portfolio with additional targeted measures to defend and support Athens market's volatile traffic," a senior member of the airport's Aviation Marketing team confirmed.
In fact AIA has introduced four further targeted incentive schemes to further enhance relationships with current and potential future airline partners. These additional 'risk-sharing' activities introduced substantial incentives for airlines to incentivise them to sustain or increase traffic during the winter low traffic season. These include the 'Sustainability & Transfer Incentive'; a 'Low Fares Incentive' (which corresponds to discounts amounting of up to 50 per cent on AIA's passenger charges for all low fare tickets to domestic and international destinations); a 'Niche Routes Incentive' that offers discounts amounting to 30% on aeronautical charges and a 'Load Factor Incentive'. The latter, introduced from winter 2013/2013 and extending through summer 2013, encourages airlines to increase traffic and offers a fixed return per additional passenger to those that exceed a certain load factor threshold.
The airport has understood that it is no good simply attracting new airlines and adding to its network if the passenger experience declines, and it has been working to improve the passenger experience, with new innovations including the implementation of branded departure gate lounges, new 'Time to Gate' monitors and Virtual Assistants. These new services provide airport related information in an easy and passenger-friendly way, offering convenience and entertainment to passengers, while at the same time promoting Athens Airport's high-tech profile and increasing the efficiency of airport operations.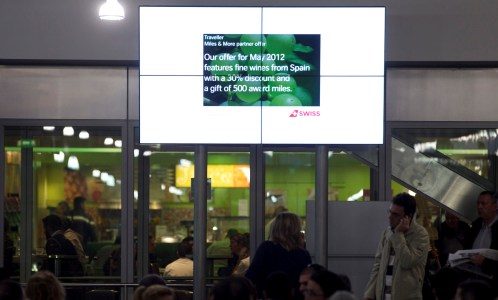 In its branded departure gate lounges, the airport has introduced large video-walls at seven locations and by the end of this month this total is due to increase to ten departure gates. Airlines can use the screens to display their corporate or destination videos, as well as images and text on destination tips. The destination's weather forecast is also displayed.
The content of screens is updated to follow the flight schedule in order to capture the target audience of the specific airline that operates in the particular destination. Passengers are informed and entertained while waiting to board, plus airlines are able to directly address their customers in an innovative way. "Through this customisation of AIA's departure gates, the passengers' travel experience is enhanced and at the same time airlines' services and brand image are effectively exposed to their target audience," said an AIA executive.
The new 'Time to Gate' monitors have been located in both Intra Schengen and Extra Schengen areas of the terminal building. These eight monitors provide real-time updates on the estimated time it will take passengers to reach their departure gate. The provided content is dynamic and refreshed every minute and can inform passengers of any anticipated delays, also reducing possible queuing.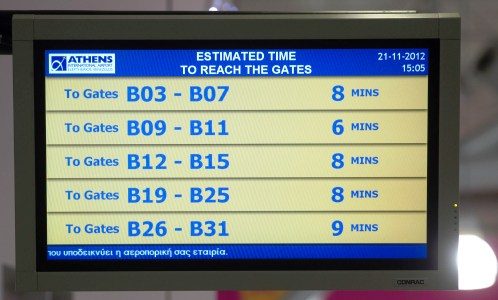 Additionally, two Holographic Announcers/Virtual Assistants, which are, in fact, projected images creating the illusion of a human agent providing airport information, are located in both Intra Schengen and Extra Schengen Areas. Pre-recorded videos are played, providing useful information to transfer passengers.
The use of Holographic Announcers has unlimited capabilities and is an effective and unique way to communicate any message directly and successfully to passengers. In the future, AIA plans to use them for the provision of additional information such as security tips and shopping promotions.

** FOR MORE INFORMATION ON ATHENS INTERNATIONAL AIRPORT PLEASE VIEW THE AIRPORT'S ROUTE EXCHANGE PROFILE **