Bratislava Airport Ready for New Arrivals
This year has marked a new dawn in the Slovak aviation business as a new terminal building was opened at its largest international gateway, M R Štefánik Airport in Bratislava, the capital of the Eastern European country. The facility, approximately 9km north east of the city centre, not only serves its home market but has a catchment which stretches across four countries, with the cities of Vienna (Austria), Brno (Czech Republic) and Győr (Hungary) all less than one hour away by car.
Formerly one of the dual hubs of former Czechoslovakian national carrier Československé Státní Aerolinie (CSA) alongside Prague Ruzyne, the airport witnessed a marked decline in demand during the 1990s and ended the decade with annual passenger number of just under 280,000. However, growing demand in the low-cost sector in the 2000s saw the airport grow significantly, surpassing the one million passenger figure in 2005 and the two million milestone in 2007 and 2008.
This growth was a major factor in the construction of the new terminal building at M R Štefánik Airport. The facility's original structure, constructed in the early 1970s, had reached capacity and was no longer fit for modern generation air travel. Rather than modify the existing structure, a decision was taken to build a brand new custom-designed facility. "The old building no longer provided the relevant passenger comfort, and any facelifts would have brought just short-term effects, thus low return on investment," said a spokesperson for the airport.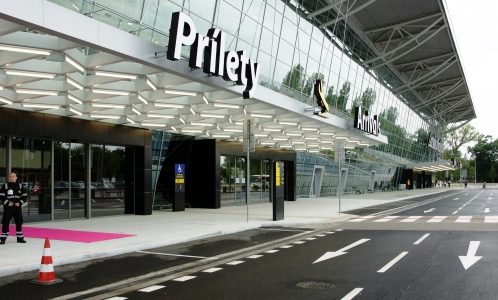 The construction project was launched in 2008 as the airport hit record demand levels and the new building was designed to fit the needs of both traditional and low-cost airlines, enhancing operational efficiency of both types of operator. The 41,000 square metre structure, housed under a single roof canopy, was opened for traffic in July this year during the busier summer months and although passenger numbers have slipped at M R Štefánik Airport over the past couple of years due to the European economic crisis, the terminal, has brought much needed additional capacity to the facility, with a capability of handling up to five million passenger per annum. According to an airport spokesperson, "the passenger reactions so far are very satisfying".
Within the new terminal there are 28 check-in desks (with reserve up to 36), four security control channels (with reserve space for two more), and eight Schengen and four non-Schengen boarding gates are now available. The hourly throughput of the building is 1,500 passengers and the structure is just 170 metres long enabling passenger to easily navigate around the terminal.
The airport's management says high emphasis was put on easy and intuitive orientation. This was achieved thanks to the clean interior design, lots of natural daylight and an efficient signage system. Frequent airport users can comfortably travel from the terminal entrance to boarding gate in just 15 minutes. "This represents a major competitive advantage compared to other airports in the catchment and makes Bratislava a very smart solution, namely for short-haul travel," said an airport spokesperson.
The benefit of developing a custom-designed building has enabled the airport to incorporate features to support its passenger profile. With a growing number of business travelers now using low-cost carriers, the airport has introduced features to add value to the travelling experience with free wi-fi access, free charging points for mobile devices available at gates as well as affordable access to business lounge facilities for all passengers regardless of their travel class or loyalty programme. These features are also proving popular with leisure travelers in the modern 'connected' world.
The airport describes the whole refurbishment as "functional rather than uselessly opulent," with funds being channeled into the key areas highlighted by passengers during pre-construction consultation. And what is more, the airport has continued to keep charges unchanged and is offering a further improved incentive programme, refusing to damage its relationship with airlines and passengers to fund a much-needed investment programme.
The new structure provides M R Štefánik Airport with the platform to develop. It is located in one of the richest catchments in Central Europe, with 15 million potential travelers in its vicinity and excellent ground transport links through highways, railways and frequent public transport services, mean it is well positioned to expand. Many would consider that the airport is standing in the shadow of Vienna Airport located just 45 minutes of drive to the south, but with its new terminal facility, attractive incentives and the absence of operational restrictions its competitiveness will be enhanced.
"M R Štefánik is a compact airport, very likeable to passengers, open 24/7, with more stable weather conditions and practically serving the same catchment of four countries as Vienna. It´s becoming obvious that several cost cautious airlines as well as passengers looking for a smart product are start recognise us," said an airport spokesperson.
To support this, the airport has developed a new incentive scheme, which is designed as a cushion to protect any new routes in the critical initiation phase. The programme includes features like up to 95 per cent discounts on landing fees, 40 per cent discount on passenger tax, regular marketing support and seat load factor bonuses. "The scheme is constructed very simple and straightforward," says airport marketing literature, adding "Bratislava remains more flexible in slot allocation and night operation than any other airport in the catchment. There is also no green tax, no security tax nor other additional charges".
Alongside attracting new air services, the incentive scheme is designed to stimulate short- and long-haul traffic growth, as well as developing cargo services. With the absence of a current home carrier, the key network development target at M R Štefánik is clearly to find an anchor tenant for the new terminal that would provide better stability and an improved balance of risks. SkyEurope's performance in Bratislava "tested and confirmed the potential of the market," according to marketing officials and this demand remains. "The market is hungry, after more variety and a higher frequency of services," a spokesperson confirmed.
A second key target for the airport is to increase connectivity to some of Europe's major hub airports establishing additional one-stop options for local travelers within Europe and in wider medium- and long-haul markets. The loss of Czech Airlines' flights to Prague has been a major set-back, but the airport's business development team is confident that new connections can be added in the not too distant future. "The highest potential is seen in Paris, which worked very well for both the SkyEurope and Czech Airlines. The customers keep requesting this product and there are strong business ties between the countries," said a spokesperson.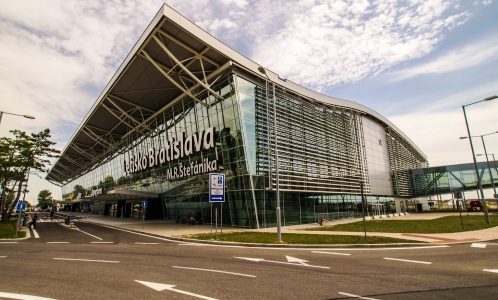 Since reworking its incentive programme some one and half year ago, the first fruits of an improved commercial strategy are clear to see. The airport has managed to attract Norwegian Air Shuttle with routes to Copenhagen and Oslo, while another success story is the UTair operation to Moscow, which grew up to a daily service this past summer. Although not necessary the major hubs M R Štefánik officials are targeting, these three routes added around 190 additional one-stop destinations to the Bratislava network with convenient transfer times and one ticket flight options.
Slovakia counts among the last few growing economies of EU even in the current times of austerity. Bratislava is said to be one of the most underestimated and undiscovered cities of Europe. With its cozy historical centre on one hand and beaming modern urbanism on the other, the city is becoming increasingly popular among foreign travellers. The wider country around the capital provides a wide range of attractions including wineries, recognised festivals, golf courses, skiing, caves, healing centres and traditional spas and with its new terminal M R Štefánik is now ready to welcome these visitors in a comfortable and efficient manner.
The tables below highlight the top ten destinations and largest operators from Bratislava M R Štefánik Airport by seat capacity this year. Its largest user is Ryanair which accounts for more than 80 per cent of the total seat capacity on offer. The Irish budget carrier this year offered year-round and seasonal services to 17 destinations across Europe.
SCHEDULED AIR SERVICES FROM BRATISLAVA M R ŠTEFÁNIK AIRPORT (non-stop departures; 2012)

Rank

Airline

Flights

Seats

% Capacity

1

Ryanair (FR)

2,749

519,561

82.9 %

2

UTAir (UT)

339

29,366

4.7 %

3

Danube Wings (V5)

421

28,628

4.6 %

4

Norwegian (DY)

131

22,010

3.5 %

5

SmartWings (QS)

76

14,136

2.3 %

6

VIP Wings (V5)

123

8,364

1.3 %

7

El Al (LY)

26

4,373

0.7 %

(Others)

-

-

-

TOTAL

3,865

626,438

-
SCHEDULED AIR SERVICES FROM BRATISLAVA M R ŠTEFÁNIK AIRPORT (non-stop departures; 2012)

Rank

Airport

Flights

Seats

% Capacity

1

London Stansted (STN)

668

126,252

20.2 %

2

Dublin (DUB)

279

52,731

8.4 %

3

Bergamo Orio al Serio (BGY)

254

48,006

7.7 %

4

London Luton (LTN)

223

42,147

6.7 %

5

Brussels Charleroi (CRL)

211

39,879

6.4 %

6

Kosice Barca (KSC)

512

34,816

5.6 %

7

Paris Beauvais (BVA)

158

29,862

4.8 %

8

Moscow Vnukovo (VKO)

339

29,366

4.7 %

9

Birmingham (BHX)

148

27,972

4.5 %

10

Liverpool John Lennon (LPL)

144

27,216

4.3 %

(Others)

929

168,191

26.8 %

TOTAL

3,865

626,438

-
** FOR MORE INFORMATION ON BRATISLAVA M R ŠTEFÁNIK AIRPORT PLEASE VIEW THE AIRPORT'S ROUTE EXCHANGE PROFILE **