Wizz Air Switches Scottish Flights to Glasgow International
Central and Eastern European low-cost, low-fare airline Wizz Air has revealed it will move its existing two routes to Scotland from Glasgow Prestwick Airport to Glasgow International Airport with effect from March 1, 2013. The decision leaves Ryanair as the sole operator at Glasgow Prestwick, formerly one of Scotland's prominent international gateways.
The decision to move the flights from Gdansk and Warsaw has been driven by an ambition to attract new passengers from the larger catchment area the more centrally located airport offers as well as providing more convenience to existing customers flying to Scotland's second city or the country's Central Belt, according to a Wizz Air's Head of Network Development & Scheduling, Stijn Vandermoere. The airline also aims to take advantage of growing interest from business travellers and the move is seen as a further step to accommodate quality and price conscious consumers.
"The move has been facilitated by a major market research exercise where we questioned where travellers on our flights between Scotland and Poland were travelling from and to. We believe there is significant growth potential in Scotland and our move to Glasgow Airport is a step towards future passenger and route growth," Stijn Vandermoere told The HUB.
Wizz Air currently offers twice weekly flights on the routes from the Polish capital, Warsaw and Gdansk, located on Poland's Baltic Sea coast. It introduced the flights in March 2006 and has been the sole carrier to provide non-stop services to the Polish market from Glasgow. In fact you have to go back to the late 1990s for any previous links and they were only on a charter basis. Ryanair currently provides the only other scheduled links from Scotland to Poland with flights from Edinburgh to Gdansk and a new route from Prestwick to Warsaw.
"We are thrilled to welcome Wizz Air on board which is yet more good news for Glasgow Airport. Not only will it provide our customers with greater choice, it will further strengthen our connectivity with some of Europe's major cities and it means we can add Poland to our long list of destinations after an absence of more than 15 years," said Amanda McMillan, Managing Director, Glasgow Airport.
Speaking exclusively to the The HUB following the announcement, McMillan noted that this route switch was "hugely significant" for Glasgow Airport, the city and wider Scottish market and despite route competition from Ryanair at Edinburgh and Prestwick, "the strong partnership we are developing with Wizz Air means we are in a strong position" against its rivals.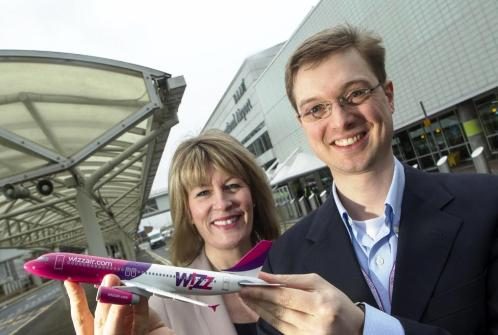 Scotland is a very popular destination for Polish migrants, with an estimated 50,000 Poles estimated to live in the country. There have been close links between Scotland and Poland since at least the 15th century when Scots traders, merchants and soldiers first travelled to Poland. By 1600 an estimated 30,000 Scots were living in Poland and Scots merchant Robert Gordon made his fortune in Gdansk before founding what became the Robert Gordon University in Aberdeen.
From the last years of the 19th century to the beginning of the Great War many Poles came to Scotland to find work. Most worked in coal mines or in iron and steel making. Polish communities thrived in villages and towns in Ayrshire and Lanarkshire, as well as in Glasgow. Today Scotland has become home to a new generation of Polish immigrants as since Poland became part of the European Union in 2004 many Poles have come to Scotland to work and live, while many more are in the country's university system.
Wizz Air will initially maintain just the two routes to Poland but it is considering further expansion, subject to how the market responds to its latest move. This could see additional links to Poland but also new services to other locations across Central and Eastern Europe. "We have 16 bases across Europe and are looking to grow between 10 per cent and 15 per cent every year so there is every chance that when you look at our wider network there will be destinations which we can serve directly from Glasgow," explained Stijn Vandermoere.