Cartagena – The World's Hidden Treasure
It has been a long time coming, but Colombia's improving international image as a safe tourism destination means that its flagship attraction, the UNESCO-protected colonial city of Cartagena, can now expect to reap some real dividends. Colombia has yet to fully realise the tourism possibilities of developing its Caribbean coast, but passenger figures from Cartagena's Rafael Núñez International Airport, are already promising.
The airport almost breached the three million passenger mark in 2012 after growing by at least 20 per cent annually in the past four years. "Last year we almost reached 30% growth," says Ramon Pereira, the airport's Legal Representative. Credit for the recent jump in Cartagena's arrivals numbers cannot go to one source, as it has been a joint effort involving the airport, the city, hoteliers and the tourist board. "No one goes to any city for the airport, luckily for us there is a lot to see here," adds Pereira, whose ambition is to grow the number of direct services.
The majority of passengers, some 70 per cent, are tourists, with the city and surrounding coastline providing the key attractions, which means that Rafael Núñez, with little local outbound market and only a few industries, such as the port and petrochemicals sector, relies heavily on the leisure sector.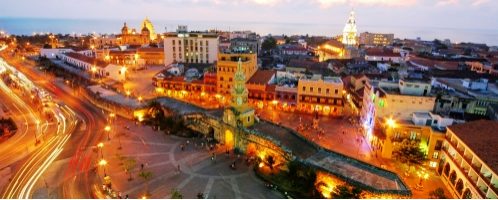 Airport operator Sociedad Aeroportuaria de la Costa (SACSA), which is part-owned by Aena, has negotiated an extension to its management of the airport until 2020 and has put in place a $60 million expansion plan. This includes a terminal upgrade, which will increase surface area by 35 per cent to accommodate four million passengers, and a new private aviation terminal in the hope that the airport, already located near the city centre, will be put on the conference and summit map. SACSA hopes to complete work within five years, but meanwhile the airport will concentrate on attracting tourists to the historic city.
Boasting a population of one million, Cartagena was declared a UNESCO World Heritage Centre in 1985 owing to its Spanish-built old walled town, which is still overlooked by the San Felipe Fortress, built to protect gold shipments from pirates. Architecture is one attraction, but Cartagena is almost surrounded by the warm waters of the Caribbean. The city's two wide urban beaches, Bocagrande and Laguito, are lined with high-rise hotels, while the exposed beach at Marbella, 6km from Cartagena, is a favourite with surfers.
Cartagena has seen an explosion of hotel building in the last eight years, during which the number of properties in the historic quarter jumped from five to more than 70. Nearby Playa Blanca, a popular day trip destination on the Islas del Rosario 20km south-west of Cartagena, is zoned for development.
Within the Old Town, there have been many conversions of historic buildings into hotels such as the Sofitel Santa Clara, a 17th century former monastery, and the Charleston Santa Teresa, a convent from the same period. Brands such as Hilton and Holiday Inn are also present and there is a thriving market in restored casas, which range from basic bed and breakfasts to luxurious boutique properties.
Further proof that Cartagena is on the up is that the city that inspired Colombia's most famous novelist, Gabriel Garcia Marquez, now hosts the Hay Literary Festival, most recently in January 2013. Meanwhile, with peace talks taking place with FARC insurgents and the restoration of normal relations with Venezuela, Bolivar province is now considered safe to travel to. It contains the gold mines that brought the Spanish here and houses around 1 million people. Attractions include the town of Mompós, another UNESCO heritage site, where palatial mansions on the banks of the Magdalena River provide evidence of its former role as a trading post.
There are also some protected areas such as the Parque Corales del Rosario y San Bernardo, 45km from Cartagena, a marine park with white sand beaches and a coral reef set around an archipelago of 30 islands, other protected areas inland feature mangrove swamps and tropical forests.
Diana Henderson, head of product at UK-based tour operator Journey Latin America, accepts that the country's image remains tarnished and that some of the remote archaeological sites remain out of bounds to tourists, but adds that safety in the Cartagena area is improved. "There are still a few areas where it's not advisable to go because of the drug activity, but it's much better now; the road from Cartagena to Mompós is okay to travel on."
The company believes international tourism to Colombia generally has been slow to take off because of the stigma attached to the country, and points to the well-developed domestic tourism sector, which means hoteliers often do not need to look beyond their borders to find business.
However, Henderson does not anticipate a tourism boom similar to that experienced by Mexico, which has benefited from new air routes prompted by currency movements favourable to airlines and tour operators. "Colombia's exchange rate has not changed hugely over the last few years. The country tends to be slightly more expensive than some in the region, but the currency is quite stable."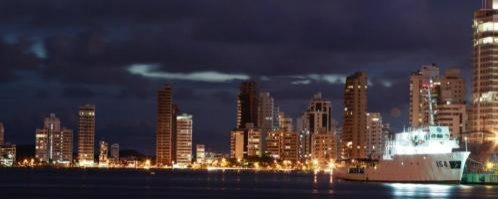 Cartagena is an hour's flight from Bogotá and just two and a half hours from Miami, and the US is its key target market – it narrowly beats Argentina as the biggest supplier of visitors. The two countries' tempestuous relationship has meant US airlines have been slow to offer direct flights, but JetBlue began a non-stop service from New York JFK in November and Spirit Airlines has operated from La Guardia via Fort Lauderdale for about four years. United Airlines operates a codeshare with Avianca.
"The US is so close that it can be a huge market for us, but because of the safety issues for many years there was a travel warning, even though Cartagena has always been a safe city," Pereira said. "Now we are targeting massive growth from the US, particularly from the north- east and west coast." Pereira has another obvious target area, Latin America. He names Lima, Santiago and Buenos Aires as his choices for direct flights.
Cartagena has successfully attracted charter flights from Italy, but Pereira is keen to regain others from Madrid and Barcelona that have been absent in the last few years. "We believe firmly that the numbers are there, but at the moment they are going through Bogotá or Panama," he said. Spain may be able to muster a direct charter because of the attraction of a common language, but other countries' leisure carriers may put Cartagena a little further down the list. Perhaps a good comparison, albeit a much bigger one, is Brazil's colonial city, Salvador.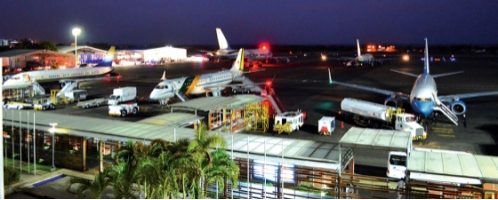 A decade ago, this was the subject of the UK's only attempt at charter flights to Brazil, a venture heavily focused on beach tourism, which lasted only one season. Even with the spotlight on Brazil with the World Cup and Olympics, it is doubtful that this will be revived, as the chief icon, Rio de Janeiro, will only cement its position with these events. Cartagena arguably does not have this handicap, as there is little desire among mainstream tourists to visit Bogotá. Developments like the Boeing 787, with its reduced operating costs, will make charters operations more economically feasible, but perhaps only with third party support.
Promotion of tourism and industry is the responsibility of Proexport Colombia, the government-run agency. Its spokesman, Javier Hendez, believes the tourism potential around Cartagena is "enormous" once sectors like golf, diving and gastronomy are properly embraced. The catalyst for growth is certainly there, as Proexport estimates that the Cartagena region will add 2,500 hotel rooms to its existing stock of 5,500 by 2014.
Hendez believes the conference market has particular prospects, as it will help to fill these rooms in the off-peak season. "The walled city has great potential as the headquarters for conferences and conventions," he said. "Cartagena has played host to internationally important events and it's one of Colombia's most developed cities. It has the infrastructure, tour operators, connectivity and personnel trained to handle large-scale meetings."
This story was expanded from an original feature that appeared in the latest issue of Routes News and which is available to delegates at Routes Americas.
Downloads