Thomson Airways Receives First Boeing 787 Dreamliner
Thomson Airways, the first UK airline to fly the new Boeing 787 Dreamliner, has celebrated the arrival of its first aircraft at Manchester Airport. The modern generation airliner touched down on British soil for the very first time 25 seconds ahead of its planned 11am arrival time on May 31, 2013, having flown from the Boeing Everett Factory in Seattle. It will be followed with the delivery of a further three aircraft within the next two weeks with the second example arriving in Manchester less than 24 hours after the first in the early hours of June 1, 2013.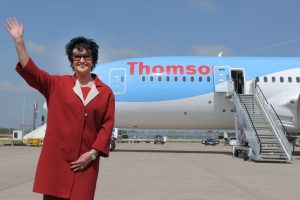 The UK carrier, part of the TUI Travel Group, is the first leisure carrier to take delivery of the Dreamliner. The aircraft is set to radically change the air travel experience for charter travellers and leave holidaymakers more relaxed and refreshed than ever before, with comfort and wellbeing features on-board reducing the effects of jet-lag. It can also fly much further distances than similar-sized aircraft opening new route opportunities for Thomson and at the same time is more environmentally friendly, using 20 per cent less fuel.
Thomson Airways will fly the state-of-the-art aircraft from London Gatwick, Manchester, East Midlands and Glasgow airports, on long-haul routes to Orlando Sanford, Florida and Cancun in Mexico, starting from July 8, 2013, but before then the three aircraft will complete a period of crew training at airports across the UK and Ireland. It is due to enter passenger service in mid-June initially between London Gatwick and Mahon, Menorca where it will sub for an existing aircraft and is likely to be used on other European routes to Mediterranean destinations like Palma and Paphos.
"After much anticipation we are very excited to welcome the 787 Dreamliner to our fleet and as the first airline in the UK to take delivery we hope our customers will enjoy the unique experience of this revolutionary aircraft," said Chris Browne, Managing Director of Thomson Airways after arriving at Manchester Airport on the delivery flight. "The introduction of the Dreamliner is a major milestone in our journey of modernising the holiday experience. Customers will be amazed at the unique look, feel and service – all of which will ensure the unique Thomson holiday experience starts as soon as they step on board this fabulous new aircraft.
"The extended flying range of the Dreamliner also unlocks a host of new and exciting holiday options for our customers, increasing the range of long haul destinations available with Thomson Airways, from four UK airports this summer. This winter we'll fly the Dreamliner direct to Phuket in Thailand and from summer 2014 we will be introducing holidays to Mauritius and Puerto Vallarta, flying direct on our new 787 aircraft," she added.
To check where Thomson Airways will fly the 787 read our story 'Boeing 787 Network Update - Where Does the Dreamliner Fly?'
Click below to watch our exclusive coverage of the aircraft's arrival at Manchester Airport…
Click below to see the Thomson Airways Boeing 787 Dreamliner as it taxied onto its remote stand at Manchester Airport…
Click below to watch our exclusive interview with Randy J. Tinseth, Vice President – Marketing, Boeing Commercial Airplanes on what the Boeing 787 Dreamliner means for route development…
Click below to watch our exclusive interview with Chris Browne, Managing Director, Thomson Airways on how the Boeing 787 Dreamliner will redefine its leisure product …