ROUTES AFRICA: Uganda – Africa's Pearl
Uganda is increasingly eager to realise its vast untapped tourism potential, while a milestone oil deal looks set to further brighten its economic prospects. But, what will this economic growth and tourism potential mean for air service development in the country?
By unbroken tradition, no article on Uganda is complete without a familiar quote from Winston Churchill. So here goes. In 1908, Britain's future prime minister rounded off his account of a tour of Africa with the advice: "Concentrate on Uganda. For magnificence, for variety of form and colour, for profusion of brilliant life – bird, insect, reptile, beast – for vast scale – Uganda is truly the pearl of Africa."
Luckily, the Ugandans now striving to regain the world's attention can find no shortage of contemporary enthusiasm for the East African nation's landscape, wildlife and people. While political turmoil kept Uganda off the tourist map for many years, the country now hopes to woo back visitors with what Geoffrey Baluku, secretary to the board of the Association of Uganda Tour Operators (AUTO), calls the "big five" and the "unique two".
On top of game parks with lions, leopards, elephants, Cape buffalo and rhinos, Uganda's distinctive offer includes chimpanzees and mountain gorillas. None of our neighbours are exactly like us," he says. "Uganda may lack a beach, which is a huge attraction for western tourists, but we have the gorillas as well as all the aspects that won the country its recent accolades."
Amos Wekesa Masaba, managing director of Great Lakes Safaris and a former president of the Uganda Tourism Association, who is driving an initiative to ramp up Uganda tourism's marketing investment, confidently places Uganda among the world's top 10 nations for biodiversity. "Uganda has more inland water bodies than any other country on the African continent," he says. "Its rivers and lakes include the longest river in the world, the Nile, and we have part of the world's second-largest freshwater lake – Lake Victoria." Crucially, the Nile offers year-round rafting. "It is only on the Nile that you can raft throughout the year. A lot of the rivers are four-month or five-month," he says.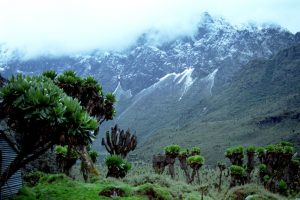 The spectacular Rwenzori Mountains offer travellers a host of alternative, or additional, thrills with their snow-capped peaks and a welter of bizarre vegetation such as six-metre-tall heather and giant lobelias as well as forest elephants. For the Lonely Planet, a trek in these mountains forms one of Uganda's five unmissable experiences, along with whitewater rafting on the Nile at Jinja, visiting Murchison Falls – "the world's most powerful waterfall" – and marvelling at the beauty of Lake Bunyonyi.
The top experience, of course, is a trek into the forests of Bwindi National Park to visit the mountain gorillas. "It's known as the world's capital of primates," says Masaba. "There is no place on earth that has the concentration of primates that Uganda has."
An unmatched cultural diversity – with a different style of dancing "every 80km" – further polishes the pearl's luster. "A lot of tribes arrived in Uganda. There were farmers. Then you also had hunters… All those guys had different traditions and a lot of them stayed within Uganda," he says.
So why is Uganda still off the beaten track? In fact, the country had a tourism inflow in line with its attractions until its politics turned toxic. In the phrase of the National Geographic, "the cornerstone of Africa's Grand Tour" became "bypassed" by visitors, who switched to Kenya and Tanzania.
For Masaba, Uganda's tourism prospects were scuppered when the notorious dictator Idi Amin took charge. "Uganda was the number-one tourism destination until Idi Amin took power. Then we had wars and challenges within the political system and clearly tourism died. Tourism cannot coexist with instability."
Now, however, tourism figures are on a steady upward track. In 2011, the last year for which statistics are available, the country attracted 1,150,000 tourists, up from 946,000 the previous year, according to figures from the United Nations World Tourism Organization (UNWTO). Tourism receipts follow the same trend, rising by 21.2 per cent in local currency terms from 2010 to 2011 and then by 18.8 per cent the following year. In dollar terms, receipts hit $1.1 billion in 2012, up from $950 million in 2011 and $784 million in 2010, according to UNWTO.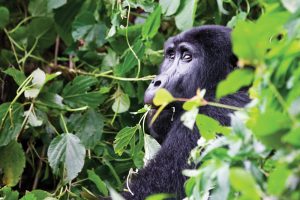 In its latest yearbook, the Uganda Bureau of Statistics reports an almost unbroken rise in arrivals over 2007 to 2011, with resident arrivals up 57 per cent and non-resident arrivals up 79 per cent. In 2011, arrivals totalled about 1.5 million, of which about 1.2 million were non-resident travellers. About 780,000 of travellers were recorded as coming by road and about 370,000 by air.
An International Trade Centre study also reveals a rise in travel from all world regions, with Africa as the origin for 680,000 travellers in 2010, the Americas for 65,000, Asia for 41,000 and Europe for 113,000. And, arrivals at Entebbe International Airport confirm the trend. Between 1991 and 2012, the numbers grew every year except for 2001 and 2009. From 61,162 travellers in 1991, the total had hit 171,656 by 2000. Over the next decade the climb continued up to 518,791 in 2010, followed by 551,904 in 2011 and 626,509 last year.
Meanwhile, the country has enjoyed the kind of economic growth that is now a fading memory for the developed world. Over 2012-2013, the governor of Uganda's central bank predicts the economy will swell by 6–7 per cent, a figure on a par with those from the World Bank and the International Monetary Fund. And, the outlook could brighten further with recent developments in mining and the oil industry.
Among the most promising developments concerns a dispute over revenue from oil that firms such as Tullow Oil are eager to start extracting. President Museveni recently declared the country is poised to conclude an oil and gas extraction plan that will be "equitable to Uganda and the oil companies". Meanwhile, China's Gingko Energy Company has revealed its plans to invest $100 million over five years to revive production at the Kilembe copper mines, estimated to contain 4 million tonnes of ore.
As in much of resource-rich Africa, China and India are vying for opportunities to contribute to Uganda's development. Chinese investment in Uganda has been put at $596 million, ranking the Asian giant second only to the UK as a foreign investor in the country. India has meanwhile declared its goal of contributing to Ugandan industry in sectors such as oil and gas, IT, agriculture, food processing and security.
Symbols of India's commitment to the country include a $450 million loan towards building a 180MW hydropower plant. India is also working to set up an India-Africa Institute of Foreign Trade in Uganda as well as a food processing industry incubation centre.
For Kyle Haywood, an ex-CEO of Air Uganda who is now heading Fastjet's South African operations, developments in the oil industry could trigger a swift expansion in Uganda's air traffic. "Once they start to gain some traction, I think that business travel through Uganda will see quite a spike quite quickly," he explains. But he warns that a take-off in the country's economic activity may not be imminent as a lot of oil industry activity is still at the exploratory stage, although the new agreement does lift a hurdle to any development.
"It is a good thing that it is coming to a conclusion on the terms of that arrangement and now it's a case of bringing it all to life and passenger traffic will flow automatically on the back of that," he says. On tourism traffic, he also sounds a similar note of caution. "The Uganda market certainly has an opportunity," he says. But roads are often in poor repair and the country needs more airports. "It's a big country but it's just difficult to get around," he says, while he believes promotional efforts need greater urgency. "Uganda needs to push its promotion a little bit harder in my view. It was a view I publicly shared when I was in Uganda. It's a beautiful country and it has a lot to offer," he explains.
While he sees Uganda as doing "some good work" in promoting its attractions, its message risks being drowned out by its neighbours such as Kenya and Rwanda. It is a criticism that Masaba would accept. In his recent launch of a Seven Wonders promotional campaign, he spotlighted how Uganda invested only $300,000 in tourism, in contrast with $23 million by Kenya and $5 million by Rwanda.
With a campaign backed by USAID, Uganda Wildlife Authority and Uganda Board, he has set a goal of quadrupling inbound tourist numbers to 2 million each year while lifting tourism revenue from $650 million to $2.5 billion.
For Fastjet, a base in Uganda is not on the horizon, although the carrier aims to link Entebbe with its operation in Tanzania, says Haywood. "We're talking about fundamentally a Dar es Salaam service operated by aircraft that sit within the Tanzanian operations," he says. "Obviously, as we develop the Fastjet concept in other countries at a later date, such as Kenya, then we'll be looking at the connectivity between those markets and Uganda as well." Fastjet sees a market for the Entebbe–Dar es Salaam connection in traders moving back and forth from the coast as well as students and tourists, he says.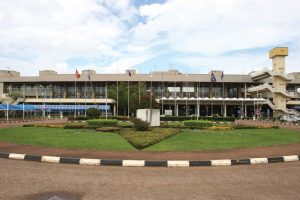 Air connectivity is also high on Masaba's agenda. "I would like to see us have something from the Far East. We should fly to Japan. We should fly to China, Singapore," he says. "Then you need slightly shorter connections with the US. Right now, for instance, if you are flying from Seattle, it's a 10-hour flight to Amsterdam, then an eight-hour flight to Entebbe. That's a little bit of a stretch." For Uganda, a prospective Delta Air Lines service between Washington and Nairobi was seen as a godsend, although the airline now has no plans to launch the route, Masaba adds.
Baluku echoes the call for a radical expansion of Entebbe's departure board. "I believe we still have to reach the MENA region, which has not quite explored Uganda, and the same goes for Australia, Japan and China," he says. North and South America are also untapped markets, with Brazil and Canada as notable exclusions, he adds.
Currently, Entebbe has direct overseas flights to Amsterdam, Brussels, Doha, Dubai, Istanbul and London. Within Africa, its services operate to Addis Ababa, Arua, Asmara, Bujumbura, Cairo, Dar es Salaam, Johannesburg, Juba, Kigali, Mombasa, Mount Kilimanjaro and Nairobi.
Masaba also sees plenty of room for growth, through leveraging a mid-way location between the grasslands of East Africa and the tropical rain forests of the Congo. "In terms of aviation, you have probably the best location for most of Africa in Entebbe. If you fly from Entebbe to Johannesburg, it's four hours. If you fly from Entebbe to Cairo, it's four hours… So, it's a really central part. That should make it a good connecting point for any airline."
For now, though, the route map is yet to reflect these opportunities. "I think every market is untapped," he says. While nobody would deny that Uganda's infrastructure lags its ambitions, the country's growth potential is equally beyond dispute. For Africa's pearl, the time to shine is surely close.
This article was modified from a story that appears in the latest issue of Routes News, the world air service development magazine, and which can be viewed online here.