British Airways Uses Dreamliner to Bring Transatlantic Service to Austin
As it launched scheduled long-haul passenger service with the Boeing 787 Dreamliner at the start of this month and celebrated the delivery of its third aircraft, British Airways (BA) revealed that Austin-Bergstrom International Airport in Texas, USA will be the first new destination to be served by the next generation aircraft. The UK carrier will introduce flights in early March 2014 and establish the first regular transatlantic link for the city of Austin.
We have already seen how other operators of the 787 have used the type to establish new long-range connections, most notably links by Japanese carriers All Nippon Airways (ANA) and Japan Airlines (JAL) into North America and Europe and British Airways has been known to be studying a number of new markets that it previously deemed unsustainable with older generation aircraft.
In BA's configuration the 787 will seat 214 passengers (35 in Club World Business Class, 25 in World Traveller Plus Premium Economy and 154 in World Traveller Economy). In terms of capacity it will act as a direct replacement for its ageing 767-300ER fleet, seating around 20 additional passengers in this three-class arrangement. However, its efficiency and operational performance means it is also well placed to open new long-haul markets and to replace larger 777-200ER equipment and right-sizing demand in some particular markets, as explained to The HUB by Andy Lord, director of operations, BA during an exclusive interview after the airline's inaugural 787 passenger flight last month (see adjacent video).
According to its initial schedule, BA will introduce a five times weekly service between London Heathrow and Austin-Bergstrom International Airport from March 3, 2014, increasing to a daily operation with effect from May 5, 2014. According to MIDT data, an estimated 49,000 bi-directional O&D passengers flew between London Heathrow and Austin last year. BA already holds a 16.2 per cent share of the demand through its own and partner carriers operations, while its transatlantic alliance partner and fellow oneworld member American Airlines had a dominant 37.0 per cent traffic share.
"We are very excited to be bringing British Airways to Austin. This new route presents an important opportunity for business growth across the Atlantic, particularly in the thriving technology sector," said Sean Doyle, executive vice president Americas, BA. The US city - BA's third destination in Texas after Dallas and Houston – is rising in business importance and is home to many technology giants including Apple, Dell, Ebay, Google and IBM.
"We are very excited to be bringing British Airways to Austin.  This new route presents an important opportunity for business growth across the Atlantic, particularly in the thriving technology sector."

Sean Doyle
Executive Vice President Americas, British Airways
"We know that London is among the top destinations for international travel from Austin and equally, Austin is home to some of the most important global cultural events. We are looking forward to providing a convenient and high quality service to new and existing customers," added Doyle.
Despite its limited connectivity more than 180,000 passengers a year (2012 data) fly between Austin and destinations across Europe, although operations at Austin-Bergstrom International Airport are obviously dominated by the local market. In 2012, the facility handled 9.4 million passengers and has increased six per cent year-to-date. The airport's network currently covers 41 destinations served by 13 airlines, with low-cost carrier Southwest Airlines dominating with a 41.9 per cent capacity share.
American Airlines is currently the largest full-service carrier at Austin with a 17.3 per cent capacity share in 2013 and its regular flights to Chicago, Dallas, Los Angeles and New York fuel global connectivity from the Texas conurbation, a position that will be strengthened if the merger with US Airways is successfully concluded and the Charlotte Douglas, Philadelphia and Phoenix links are added.
The below 2012 data, extracted from the excellent new Meetings Essentials by ASM analysis, provides some additional information on the dynamics of the London Heathrow - Austin-Bergstrom International market, including seasonal O&D demand, BSP sales, a traffic trend analysis, a network analysis of the US airport and US GDP data since 2000.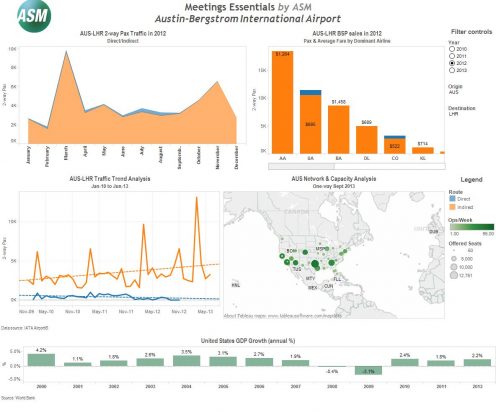 BA launched passenger flights with the 787 on August 8, 2013 with a special VIP charter service from Edinburgh Airport. The type operated its first passenger flight with fare-paying customers the subsequent day between London Heathrow and Stockholm Arlanda, a route it continued to serve on an ad hoc basis for crew familiarisation before entering scheduled long-haul operations between London Heathrow and Toronto Pearson on September 1, 2013. The Dreamliner will also be introduced on BA's flights between London Heathrow and Newark Liberty International Airport from October 1, 2013.
According to Lynne Embleton, director of strategy, BA, the addition of the 787 and likewise the Airbus A380 to the carrier's fleet will enable it to start new routes and increase services to a number of destinations. "We're excited to be the only airline offering direct flights from London to Austin. In the pioneering spirit of the Lone Star state, we are flying there in one of the world's most advanced aircraft, the 787, to encourage more business with the scores of hi-tech businesses based in Austin's 'Silicon Hills'," she said.
The new Austin link is just part of an expanded long-haul summer 2014 schedule, which from March 30, 2014, will see a number of increases in long-haul flying to a variety of destinations, including further flights to Seoul in South Korea, where the airline started flying to in December 2012, which will increase from six services a week to daily.
The airline is also significantly increasing flights to Accra in Ghana. From the start of the winter 2013 season, an additional three flights a week are being added, bringing the total number of weekly services up to 10. From summer 2014, a larger four-cabin Boeing 747 will replace the Boeing 777 currently serving the route.
BA is also set to increase connections from summer 2014 between London and Tel Aviv when it introduces a daily wide-bodied four-cabin Boeing 777-200 to the route, replacing a single-aisle A321 aircraft. Premium customers will also, for the first time, be able to fly in the airline's First cabin between London and Jeddah when a four-cabin Boeing 777 replaces the existing three-cabin Boeing 767 service.
Elsewhere, Seattle flights will also increase from ten to eleven flights a week from summer 2014, while passengers to Entebbe will be able to take advantage of much-improved flight times and an increase in services from three to four flights a week. Capacity will also be reduced to Moscow with an A321 replacing a 767 on one of BA's three daily rotations, while the carrier's three times weekly link to Lusaka, Zambia will be closed from October 27, 2013 to facilitate the additional services to Accra.
These changes to Heathrow flights are in addition to the recent announcement about the airline's long-haul schedule from Gatwick which will see an increase from ten to 13 flights a week to Orlando, six to seven flights a week to St Lucia, twice to three times a week to Punta Cana, five to six a week to Antigua and three to four a week to Kingston thanks to the addition of another Boeing 777 to the Gatwick fleet.