LAN Airlines is to introduce a new link between the Colombian capital Bogota and the Caribbean island of Aruba. The new twice weekly service will be inaugurated on December 1, 2013 and will be flown by LAN Colombia using an Airbus A320. It will be the venture's only current flight into the Caribbean market and highlights how the regional divisions are playing an important role in developing wider Americas connecting within the LATAM group.
"After a few years of maintaining contacts and developing a relationship with LAN, which has its headquarters in Chile, we have been able to attract the airline to carry out two weekly flights to and from Bogota for Aruba," announced Aruba Airport Authority (AAA) chief executive officer, Peter Steinmetz during a press conference confirming the news earlier this month.
Aruba has been working on this relationship since 2007, but it was in 2012 that a delegation, after five years of discussions, travelled to Chile again to present the benefits of doing business with Aruba in a market which is showing continuous growth. In a great example of stakeholders supporting network development, AAA has received strong backing from the Aruba Tourism Authority (ATA) and the Government of Aruba in this process.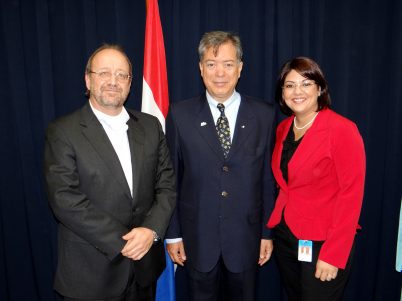 Although this is LAN Colombia's first venture in the Caribbean, its predecessor Aires has experience in this market. Previously an independent venture in Colombia, it was revealed that LAN Airlines had agreed to acquire a 98 per cent shareholding in the operator in October 2008 and the business was officially relaunched under the LAN Colombia brand on December 3, 2011. Under its private ownership it had previously served a limited Caribbean network, including a link to Aruba from Barranquilla throughout the 2000s. This route closed in January 2011.
There has been growing demand between Bogota and Aruba over the past two years with MIDT data showing a 34.1 per cent increase in bi-directional O&D passengers between 2010 and 2012, when numbers reached around 35,000. The route is currently exclusively served by Avianca, which through the deployment of larger aircraft has increased capacity over the past couple of years, while maintaining around a daily service. In total available seats increased 15.4 per cent between 2011 and 2012 and 5.9 per cent between 2012 and 2013.
Although the twice weekly schedule of LAN Colombia will have a limited impacted on Avianca's dominance, it could help reduce air fares, which currently stand at an average of $256 each way, while LAN's formal entry into oneworld on October 1, 2013 will also support onward connection options via the alliance's wider network across the Americas and into intercontinental markets. The frequency of the route will mainly target leisure travellers and will satisfy the growing tourist demand into Aruba from the Central and South American markets.