WORLD ROUTES: Thomas Cook's Radical Rethink
Thomas Cook has seen a major reshaping of its business, including a number of significant changes to its airline and route network, reports Gary Noakes.
Life used to be simple for charter airlines – fly a package group to a sunny destination and then a week or two later, fly them back. Things are not so easy now, thanks to self-packaging, a proliferation of budget carriers in the short-haul sector and the incursion of more scheduled airlines into the long-haul market, notably those in the Gulf offering rock-bottom seat rates.
Europe's two major charter carriers have had to undertake radical rethinks in the last few years. Tui Travel is banking on a fleet of Boeing 787s to give it a cost advantage in the Caribbean and US and to reinstate former one-stop destinations such as Phuket as direct flights from the UK. The 787 will also enable it to add some as yet unnamed new destinations from Europe formerly beyond its reach.
Tui's main rival is Thomas Cook and its airline has been under the cloud of its parent company's difficulties for the past couple of years. Thomas Cook Group PLC now seems to have turned a corner and a significant part of the group's restructuring is the transformation of the in-house carrier.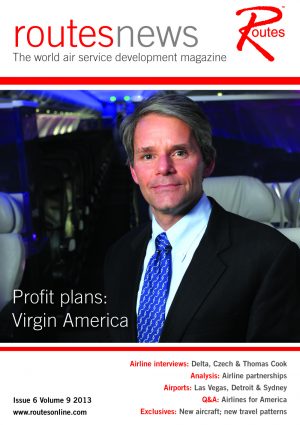 A first step towards this in the UK was a deal with easyJet to operate 80,000 return flights this summer from nine UK airports. Handing over around 3% of its capacity enabled Thomas Cook Airlines to shed some older short-haul aircraft from its fleet. The core fleet will be retained, however, and to underline this, Thomas Cook will integrate 23 new aircraft of the A320/A321 family into its fleet, six of which will be for the UK carrier.
The short-haul remodelling has been followed by a radical plan for the long-haul operation that will affect all four Thomas Cook Airlines brands in the UK, Germany, Scandinavia and Belgium. One Frankfurt-based department covering route development for the entire airline group and revenue management now oversees them, although they each retain their own headquarters.
The short-haul business remains broadly as it is now, with point-to-point flying for the in-house tour operation and others supplemented with seat-only sales. In the UK, easyJet's seat inventory and other charter carriers also work for the tour operation. The new long-haul model is, however, a radical departure from previous years, particularly for the UK carrier.
The new approach is to operate two mini hubs at Frankfurt and Manchester, with feed from across Europe and Scandinavia via interline deals with scheduled carriers, which at the moment means Flybe and SAS. Their inventory is loaded into the Global Distribution System and become visible on Thomas Cook websites.
They will supply traffic for the long-haul routes – which means Orlando and the Caribbean in the UK, but more than 30 destinations worldwide from Germany. Where there is sufficient demand for a dedicated flight, a W pattern will be adopted from a European city, for example Vienna, where weekly flights to Punta Cana, Varadero and Mombasa will be offered this winter. The W pattern brings the airline maximum crewing and aircraft utilisation efficiencies, making these routes economically viable.
Jens Boyd, Thomas Cook Airlines' head of group long-haul, explains: "Our crews have to be flying 15 to 20 days a month to be profitable. We send them to Vienna and put them in a hotel for one night, instead of them staying in a hotel in the Dominican Republic for a week."
One drawback is that the W rotation cuts the number of days' holiday from the traditional 14 to 13, but Boyd insists there has been no resistance to this. Both strategies, Thomas Cook believes, will give routes critical mass and boost profitability.
Using the feeder model to fill long-haul flights has long been the approach of Condor, Thomas Cook's German carrier. Testament to its success is the sustainability of services from Frankfurt to a range of destinations as diverse as Panama, Kilimanjaro, Zanzibar and Salvador. The carrier has a mix of direct sales (around 40%), in-house (around 30%) and third party revenue that is not typical of a charter carrier. "Condor has developed into a scheduled airline over the course of the past 10 years," says Boyd.
To expand this concept, particularly to the UK, Thomas Cook earlier this summer issued a Request For Proposal (RFP) through Routesonline covering all its long-haul operations, with meetings with departure and destination airports to be held at World Routes in Las Vegas in October.
Part of Thomas Cook's expansion strategy is based on the belief that there is a gap in the market left by Martinair, the Dutch leisure carrier that connected long-haul flights from Amsterdam until it ceased passenger services in late 2011. Boyd names Billund and Bergen as examples of airports that need such connectivity, which, he says, are not currently provided via the UK.
"Scandinavians are most likely to fly to Heathrow then travel by train to Gatwick. We will give them an alternative via Manchester." He adds that the connectivity is "the full interline – what you would expect from BA from Glasgow to Calgary". He stresses, however, that the feeder network is supplementary to the main markets. "We will still be reliant on the UK and Germany."
The airline will continue to base aircraft at Gatwick and has one Boeing 767 at Munich this summer, with a decision on winter capacity there still undecided. This winter, Manchester will offer 10 destinations – double that of Gatwick – and Munich nine. Glasgow, Birmingham and Cardiff will offer an Orlando flight.
Thomas Cook Airlines Scandinavia will continue to have its own long-haul routes in winter from Stockholm, Copenhagen, Oslo, Gothenburg and Helsinki, using A330-200s and A330-300s covering the Caribbean and Thailand.
Group-wide, the long-haul fleet from November will comprise five A330-200s. Three of the group's 15 767-300ERs are currently being used for medium-haul routes. Manchester will have all the A330-200s and two 767s next summer. Next winter will see this slimmed to three A330-200s. Condor's long-haul fleet until winter 2014/15 will total 12–15 Boeing 767s. These will be based at Frankfurt, with some being used for W flights throughout Europe.
The group is considering adding long-haul routes from Brussels, based on "very strong" sales by its in-house tour operator there. There is a compelling offer to destination airports, Boyd believes. "If you don't regard Tui's airline as one, we are probably the biggest leisure airline on the continent. We are probably in the best position to develop leisure destinations out of Europe and if you are at least 4,000 miles away from Europe and want to develop inbound tourism, we have the capability to do it."
He names Puerto Rico as an example. "Puerto Rico is the Majorca of the Americas, but Europe did not really know it. It's now on the European travel map." There will not, Boyd says, be a rash of new routes, just the usual one per season – this winter it is Santa Clara, the airline's fifth Cuban destination. The focus will remain westward.
"The challenge with Asia is you are facing the Gulf carriers. They are able to sell at low rates – we just do not know how they do it, but from a tour operator perspective, we are able to create packages with a plethora of Gulf carriers to many more destinations than we used to."
However, he says he is still open to suggestions from Asian airports wanting direct flights. Wherever they are, airports are asked to "co-ordinate local support" from tourist boards, governments and the private sector, which covers marketing support for new routes.
Once the route development is tackled, one other taxing problem remains. Bringing the airline under a single Europe-wide management means having to tackle the tricky issue of branding. The Condor name is a household one in Germany, but Thomas Cook is travel's oldest brand and is particularly well-known in the UK market. Boyd acknowledges something will have to give. "We will have to think about the future brand, this is something that we will do once we have successfully set up the Airlines Group."
This article was reproduced and edited from an original story that appeared on our sister publication Routes News. The latest bumper World Routes edition of the official air service development magazine is available in your delegate bags or can be read online by clicking here.