Gulf Air Plans Flights to Dubai's Al Maktoum International
Bahrain carrier Gulf Air has become the first network airline to confirm an intent to introduce flights to Dubai's new airport, Al Maktoum International, after it opens for passenger service at Dubai World Central (DWC) later this year. The carrier has signed a memorandum of understanding to operate a daily service linking DWC to its home base in Bahrain from December 8, 2013.
Gulf Air already operates 51 flights per week into Dubai International but is targeting travellers who value the new airport's convenience and proximity to developments in Dubai. As such, the carrier confirms this route will complement rather than supplement its existing operation, although a source suggests there could be a little juggling of schedules to get the right balance of demand between the two airports.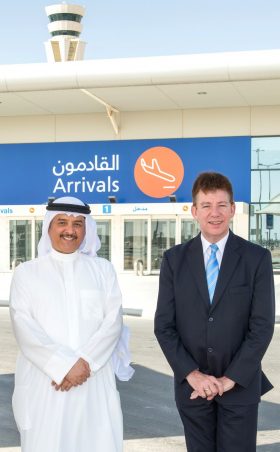 "We are thrilled to announce the signing of an MOU with Gulf Air, the first full-service airline to commit to operations into DWC," Paul Griffiths, chief executive officer, Dubai Airports. "Gulf Air's daily service to Bahrain and onward connections through its network are sure to be appealing to a wide number of travellers. It's clear the interest in our new passenger terminal is growing in leaps and bounds. We are confident passengers will appreciate the sleek efficiency of our newest passenger terminal and the growing slate of flights it has on offer."
Gulf Air has been operating to Dubai since 1960 and currently offers seven rotations every day between Bahrain International Airport and Dubai International. This additional flight will boost on the route by around ten per cent and will be operated using one of Gulf Air's new Airbus A320-Extended Range (ER) jets which include a fully-flatbed seat offering in Falcon Gold Class, alongside a traditional Economy offering.
"The new daily evening flight to DWC will provide additional travel options and seamless connections through Bahrain to over 30 destinations, maximising passenger convenience," said Maher Salman Al Musallam, acting chief executive officer, Gulf Air. "Furthermore, the airport's close proximity to the holiday, residential and business developments of Arabian Ranches, Dubai Marina, Dubai Media City and Palm Jumeirah, make it an attractive, alternative, time-saving travel proposition for passengers located in or travelling to these areas."
Gulf Air competes directly with Emirates Airline and low-cost carrier flydubai on the Bahrain – Dubai city pair and up until earlier this year had also faced competition from the Kingdom's second carrier, Bahrain Air before its collapse. According to MIDT data, an estimated 831,000 bi-directional O&D passengers travelled between this route in 2012, up 17.2 per cent on the previous year. Gulf Air held an approximate 44 per cent share of this traffic.
Upon opening on October 27, 2013, DWC will offer full retail as well as food and beverage amenities. It is serviced by one A380 capable runway, 64 remote aircraft stands and has capacity for up to seven million passengers per year. Dubai World Central first opened for cargo operations in June 2010 and has quickly established itself as an emerging cargo airport in the region with 36 airlines. Dubai Airports launched general aviation operations at DWC on April 28, 2011.