Air Seychelles Safeguards Domestic Air Connectivity with Viking Air Twin Otter Purchase
Air Seychelles has announced the purchase of three Viking Air DHC-6 Twin Otter Series 400 aircraft, in a deal which will see the carrier renew its domestic fleet. The new aircraft will be used to maintain key air services between Mahé and Praslin, as well as linking other islands in the archipelago, including Bird, Denis and Frégate.
All three aircraft deliveries are scheduled for mid-2015, with an option for earlier delivery if aircraft become available. The airline currently operates one Viking Air DHC-6 Twin Otter Series 400 and three Series 300 aircraft.
"On the eve of our 35th anniversary, I'm delighted to mark a major milestone in our carrier's development with this historic fleet order," said Cramer Ball, chief executive officer, Air Seychelles. "This announcement is testament to the success of our turnaround strategy, which has seen an expansion in both our international and domestic services, and the synergies derived from working closely with our equity partner, Etihad Airways.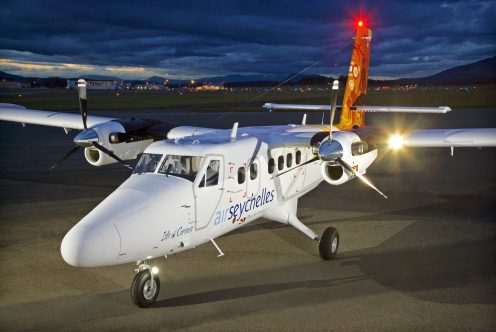 Once delivered, the new aircraft will replace the existing Series 300 aircraft, forming the backbone of a younger domestic fleet. The 19-seat aircraft are ideally suited for short sector flying, being able to land on rugged, short airstrips, and having few issues operating in a saline and humid environment.
"These aircraft are designed for Short Take-offs and Landings, and are robust in extreme conditions – something we have a lot of experience with in the Seychelles since the Twin Otters were first introduced here in the early 1980s," explained Ball.
"The new aircraft are the right tools at the right time for Air Seychelles. The aircraft will secure the future of our inter-island services, Seychelles tourism and our economy," he added.
The confirmation of the order comes at the end of a strong year for Air Seychelles. Already in 2013 the carrier has introduced a second Airbus A330-200 aircraft; launched services to Hong Kong; signed codeshare agreements with airberlin, South African Airways and Czech Airlines; expanded the number of codeshare destinations with equity partner Etihad Airways; witnessed surging passenger growth in its domestic services; and crucially, posted its first profit in three years. The indicators also point to the carrier being on track for a second successive year of profitability.
"Key to this fleet deal has been the growth in our domestic traffic since the beginning of 2013, up 15 per cent for visitors and up 13 per cent for local commuters, and we're already seeing strong bookings going into next year. We have also seen solid business with our charters. Working alongside our international and local tourism partners, as well as Viking Air, we look forward to a successful entry into service of these new aircraft," said Ball.