FINAL CALL: Fun for Friday
Many Fridays The HUB will have a look back at some of the alternative stories of the past week. Humourous, interesting, enlightening or simply just a bit different, this addition to our coverage will enable us to feature more from the world of aviation and have a little bit of fun on a friday.

---
Santa's Early Delivery to Shannon
Last week we brought you the story of Ryanair's expansion plans at Shannon Airport for summer 2014 following the removal of the Irish aviation tax from the start of April 2014. In our story we made mention of Santa Claus making a surprise appearance in Shannon Airport's viewing gallery to deliver new route presents to the airport's management, well, we now have some nice pictures from the airport highlighting the big man's arrival. Today is November 1st so I think we can about get away with the festive angle, although there are no immediate plans to put the decorations up on Routesonline just yet.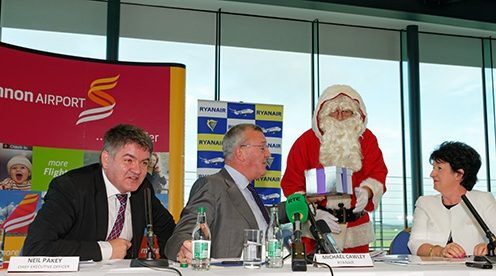 ---
Fiji Airways Invites Public to Rename Regional Carrier
Fiji Airways has announced its intention to rebrand its regional subsidiary Pacific Sun. And it's giving the people of Fiji the opportunity to suggest a new name for the airline. Pacific Sun is Fiji's main domestic airline and also operates regional flights on behalf of Fiji Airways providing an invaluable link for Fiji's major domestic ports to Nadi and Suva, as well as maintaining an important Pacific link in the Fiji Airways' network.
However, since Fiji Airways (then Air Pacific) started up operations the domestic and regional subsidiary, hasn't had a brand alignment with its commercial position. Now with an investment in brand new aircraft for the airline to complement the operational restructure it has been going through, the airline's management believes the time is right for change and is embarking on a unique campaign to seek the input of Fijians in selecting a new name for the airline.
"We want to create an identity for Pacific Sun – an identity that Fiji can be proud of, and one which will resonate with our customers," said Stefan Pichler, managing director, Fiji Airways. "We thought about how we could make this process more inclusive with the people of Fiji, and have come up with an idea to solicit their opinion into a name for Pacific Sun."
"While this isn't a majority-wins contest, and we've set some parameters for the feedback we hope to receive, it will be exciting to see what the public can come up with. Ultimately the mass of opinions will be an input with a variety of commercial considerations which will form the basis for our final decision," he added.
One of the conditions for new identity is that it must include the name "Fiji" in it. All entries suggesting a new name for the airline must also include a brief line explaining why the name should be chosen (in 30 words or less).
"The new brand for our domestic and regional carrier will align with the new Fiji Airways identity, and highlight its important role as a link to Fiji and the Pacific. Hence the new identity will have a distinct yet part-of-the-family look and feel to Fiji Airways," explained Pichler.
To see all terms and conditions and to enter, you need to visit the Fiji Airways website.
---
What Does a Boeing 777 Looks Like Under An X-Ray?
Have you wondered what a Boeing 777 looks like under an X-ray? No, we haven't either, but British photographer Nick Veasey has given all of you that have had sleepless nights over this dilemma the opportunity to now sleep easily following the release of his new book, X-Ray: See Through the World Around You.
We think of an X-ray as a diagnostic or security tool - but it's much more. As award-winning photographer Nick Veasey shows in this eye-opening collection, X-rays reveal worlds hidden beneath the surface. Veasey, often in collaboration with scientists and medical personnel, uses a variety of specialised equipment to create stunningly ethereal images of everything from tulips to tractors and of course the Boeing 777. The publishers say it will alter the way you perceive even the most everyday object.
The book holds a collection of 205 photographs of everyday objects, nature, and the human body in action. It all seems quite strange and started out when Veasey was hired to X-ray a Pepsi can for a commercial. Apparently he spent the rest of the day X-raying random objects he found lying around, and it quickly turned into an obsession.
You can see the Boeing 777 for yourself, below...

---
Check Out the Horns on That ERJ 135
On Monday 27th October, bmi regional inaugurated flights between Aberdeen and the Norwegian capital Oslo and dressed an Embraer ERJ 135 up as a Viking to celebrate, see image below.
The new route is the latest in a series of positive moves by the Aberdeen-based airline in the Scottish and Norwegian markets. Demand from the oil and gas industry and dialogue with key companies have been fundamental to the decision to launch the service, while leisure travellers will be able to take advantage of direct access between two city destinations.
bmi regional launched direct flights between Aberdeen and Kristiansund in Norway at the end of August and will operate direct flights between Stavanger and Harstad/Evenes and Tromsø in the far north of Norway from January 2014 – becoming the first non-Scandinavian airline to launch scheduled domestic flights in Norway and directly linking the country's two fastest growing regions for the first time.
"Aberdeen and Oslo are strategic hubs for the oil and gas industry and our new service will offer significant time and efficiency savings for businesses in the North-east of Scotland and Norway," said Cathal O'Connell, chief executive, bmi regional. "The support and engagement we have received from the oil and gas industry on both sides of the North Sea remains fundamental to our decision to develop a long term, strategic presence in these markets."